Music Wrap-Up: Big Sean & Naya Rivera Engaged, Drake Ends Robin Thicke's Billboard Chart Reign, And More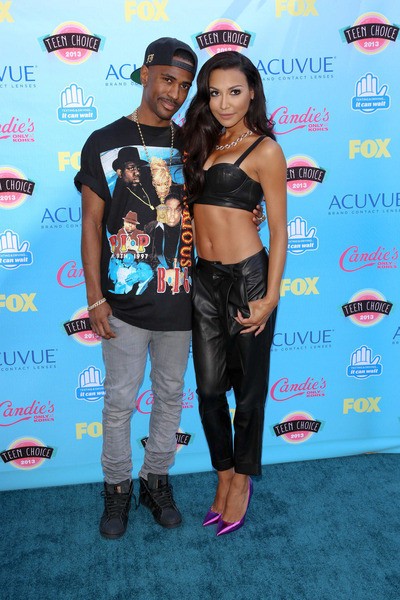 Time for your end of the week news recap! Here is the news you may have missed while adding Sinead O'Connor to your list of people who you should never offend.

Naya Rivera and Big Sean Engaged

What a year it's been for rapper Big Sean and actress/singer Naya Rivera when it comes to their relationship, and it is clear they are trying to go out with a bang...or should I say a ring. A rep for Naya confirmed with Just Jared that Big Sean loved it so much, he decided to put a ring on it. That's right, after six months of dating, the cute couple are engaged. It was just last week Big Sean sat and spoke with talk show maven Wendy Williams about his relationship saying that Naya brings no stress to his life therefore she's a keeper. The two collaborated on Naya's latest single "Sorry" and I'd be lying if I said I'm not looking forward to what this union will bring to my ears. Congrats to the love birds!

Rihanna releases co-directed video for "Pour It Up"

Rihanna released her video for her song "Pour It Up" that appears on her album "Unapologetic." Simply, the video is a teenage boy's wet dream as well as a lot of adult men and surely some women! Strippers reign supreme throughout the video including one shot of a lady twerking in water. Oh, and Rihanna gets her twerk on too on her throne, like literally. Donning a cropped blonde pin-curled wig, Rihanna is daring in her video where she also wore the hat of co-director for. There is an interesting backstory to this video. It seems that the original director, Vincent Haycock, backed out of it due to "creative differences," as he put it via Twitter. Rihanna's feelings on the matter? "Luckily, none of that matters," the singer tweeted in early September. "just take your name off the check while u at it! Whatever your issue is leave my fans out of it." Whew, Rihanna's feisty. And yes, this video will be getting banned from somewhere. Check it out below!


Drake ends Robin Thicke's Billboard chart takeover

Drake has managed to end Robin Thicke's "Blurred Lines" reign on Billboard's Hot R&B/Hip Hop Songs Chart with his single "Hold On, We're Going Home." The single which appears on Drake's latest release "Nothing Was The Same"(which debuted at number one on Billboard's Hot 200 this week) not only ended Robin Thicke's 16-week reign, it also became Drake's 11th number one single on the Hot R&B/Hip Hop Songs Chart. Other Drake singles to see the number one spot includes "Best I Ever Had" and his feature on label mate Nicki Minaj's "Moment 4 Life." Speaking of Drake, it looks like his feud with Chris Brown is over. Brown posted an update on his Facebook page stating that he and Drake were working together in the studio. Though it hasn't been confirmed, I'm guessing the single they're working on will appear on Chris's upcoming album "X" due in November. If you can recall, the two had a much publicized fight at a New York club that involved the throwing of glass champagne bottles and a lot of broken mirrors. The fight was rumored to be over Rihanna who the two have both dated. Glad they worked that out.

Britney Spears releases video for "Work Bitch"

Britney Spears released the music video for her fun track "Work Bitch" set to appear on her eighth studio album. The video that was directed by Ben Mor includes images of women on shiny leashes, hot choreography in a desert, a whip, women in lingerie, and Britney dancing on water surrounded by sharks. Check out the video below.


Fin!

Chime in! What do you think about Naya and Big Sean's engagement? Is it too soon? Whose video is hotter, Britney Spears or Rihanna's?