Music Wrap-Up: Beyonce & Jay Z Are Hollywood's Highest Earners, New Tupac Movie and More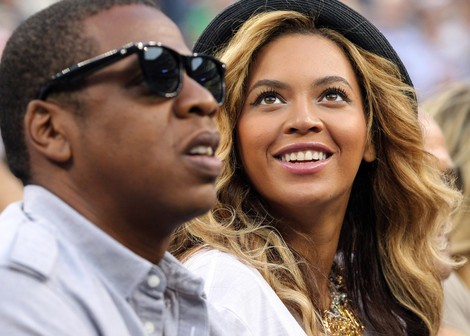 Hello Friday! Time to catch up on the music news you may have missed this week. Read on!
Jay Z and Beyoncé are still the top earning Hollywood couple
No one, and I mean no one should ever buy a drink when Jay Z and Beyoncé are around. That's because they have enough to buy the bar and the bartender. Forbes released their list of the highest-earning celebrity couples and for a second year in a row, Beyoncé and Jay Z sit on their thrones at number one racking in an estimated $95 million from June 2012-June 2013. How did they do it you ask? Well, Beyoncé's "Mrs. Carter" world tour sure helped. Mrs. "Grown Woman" herself made $2 million a show! Oh, and Jay Z was no lazy bum you know. His "Watch the Throne" album and world tour with fellow rapper Kanye West helped leave him and his wife at number one of Forbes' list. And they didn't even count the sales of his recent release "Magna Carta…Holy Grail." The album was released in July making it not eligible to count toward their earnings. They are a power couple for sure.
Solange Knowles premiere's "Lovers In The Parking Lot" video
Man, Solange is so cool! I'm starting to believe that Knowles gene is too perfect for interpretation. The singer released the video for her song "Lovers In The Parking Lot" which appears on her EP "True" and it was everything. With cameos from Mannie Fresh and Bun B (who partakes in a little choreography with Solange) this video is all about creativity on a low budget. The scenes look like they were shot in a flea market-mall kind of setting and Solange wows in light up laces, metallic hot pink shorts, and solo dance moves that were an accessory in and of itself. Did I mention that she has a game of Mortal Kombat II playing in the background of one of her scenes? Oh I didn't, forgive me please. My inner 90's girl definitely approves. Great visuals for an even better song.
New Tupac Shakur film coming to a theater near you
It's been a longtime in the making but it looks like a biopic based on the life of late west coast rapper Tupac Shakur may just make it to a theater very soon. As some of you may know, this isn't the first time news of a Tupac biopic being in the works has been reported. In year's past, directors have been linked to the project and then later reported to no longer be attached to the movie. According to the Los Angeles Times, a script is currently being worked on and Tupac's mother, Afeni Shakur, has been named as an executive producer of the movie. A director and an actor to play Tupac have not yet been chosen which gives me a little déjà vu when it comes to the film being delayed in the past. Hopefully, we get a film in the near future but to hold us over we can always dip in our stash for Tupac's documentaries, one of which being 2003's "Tupac Resurrection." This has been a really big month for Tupac news! As previously reported, there is currently a musical in the works that will be based on the story that Tupac's lyrics illustrated.
Cher says that Miley can't dance, then feels bad for it
One performance with one million reactions. This is the best way to describe Miley Cyrus' MTV VMA performance. Raise your hand if you're over it? Like most of us, we've moved past Miley's performance and accepted that she likes to have her tongue hangout and wear as little clothing as possible. We get it, you love your tongue Miley. But still, there are folks who were not impressed with the performance or our little Hannah Montana transforming from the girl next door to the girl on the corner. Living legend Cher (who was known to show a little skin in her day) expressed her discontent of the performance in an interview with USA Today saying, "She could have come out naked, and if she'd just rocked the house, I would have said, 'You go, girl.' It just wasn't done well. She can't dance, her body looked like hell, the song wasn't great, one cheek was hanging out. And, chick, don't stick out your tongue if it's coated." I wish Cher would just tell us exactly what's on her mind.
Cher then, I presume, felt sorry about slamming Miley and stated that she meant to say that she didn't like Miley's performance and that Miley was talented and didn't commit a felony. I don't think Miley cares much. It would however suffice many to know that Miley was nervous before performing at the VMAS. In a video trailer of her new MTV documentary "Miley: The Movement," Miley expressed nerves before taking the VMA stage. She even hints at knowing that her performance would leave tongues wagging following the performance. That Miley, she's smarter than everyone thinks she is. Check out the trailer below.
Fin!
Chime in! What did you think of Solange's new video? Do you agree or disagree with Cher's comments?