Music Talk: Get To Know Lola Blanc
Her music career is just beginning, but dance-pop singer Lola Blanc has already seen and experienced plenty. Here's what you need to know about the up-and-coming vocalist.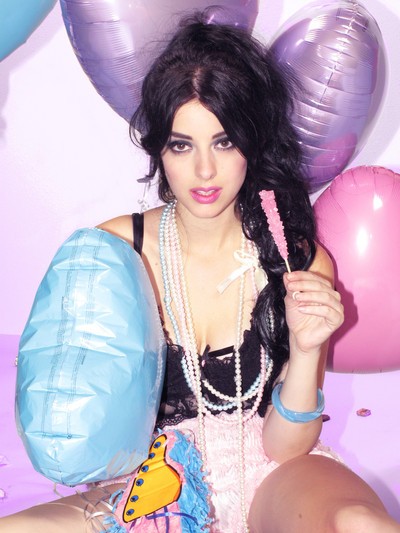 "I started writing songs when I was like six years old," says the bubbly Michigan native, "in between home-schooling and ventriloquist shows."
Yes, she was once a ventriloquist - the career repopularized by the success of Jeff Dunham. How did she go from making dummies talk to making music? Turns out that was always in her sights, with the influence of some girl power.
"Fiona Apple is my number-one; she got me into songwriting like crazy. Gwen Stefani is a huge influence on my entire life, as well as the Spice Girls," she continues. "It was always my dream to come to Los Angeles and be a pop singer. Really long story short, I was able to move here, and I started exploring, trying out different styles. About a year ago I made the transition to full-on dance pop music and it was the best decision I've ever made."
Though she may have been inspired by girl power, now she's doing things her own way, with her own distinct flair.
"We're moving forward independently," she explains. "I'm in the studio every day. Two songs are up right now and more are about to go up."
It's the start of a successful career that she's already starting to set goals for. "In the short term it's to make a video and put a show together. Put out an EP most likely, put out an album, and rule the world, yada yada yada," she says with a laugh, not one to rate herself too highly just yet.
"I want to get on bigger artists' tours. That's kind of the next step. I'd love to tour with Nicki Minaj," she adds. "She's insane."
While Lola puts her own career together, she's kept busy by appearing in the videos of other artists, including LMFAO's "Sexy And I Know It" and Interpol's "Lights."
She describes the side gig as "an opportunity to meet other artists, network and make a bit of money in the meantime. I'm lucky because rock videos and cool indie videos really like me."
Yet it's not just music that holds Lola's interest. She's a self-described lover of "all forms of art," including movies and fashion. Lola's personal style is eclectic, "ultra-feminine and colorful and high drama," which she laughingly describes as "My Little Pony meets an evil Catwoman."
"I'm obsessed with movies," she adds. "I'm always going to movies. I don't drink and I don't smoke, so movies are my one escape from life, because I'm not a party girl. Eternal Sunshine of the Spotless Mind is my number-one favorite [movie]."
While making music, catching movies and updating her closet, Lola still has plenty of time to keep up with her blog, where she's not shy about expressing her opinions, tastes and love for life.
What music is this dance-pop queen listening to? She recommends Gotye's song "Somebody That I Used To Know," as well as Florence and the Machine's new album Ceremonials. "If you like to be taken on an epic journey," she says, "Florence and the Machine is the band for you."
Lola's own journey is just beginning, and if it's half as interesting as what she's already done, she'll have plenty of stories to tell for a long time to come.
My thanks to Lola Blanc for this interview! To learn more about her, visit her official website and follow her on Twitter, and check out her song "You Like Me" below.

(c)2011 Brittany Frederick/Digital Airwaves. Appears at Starpulse with permission. All rights reserved. No reproduction permitted.