Music Spotlight: Arika Kane – A Musician You Should Know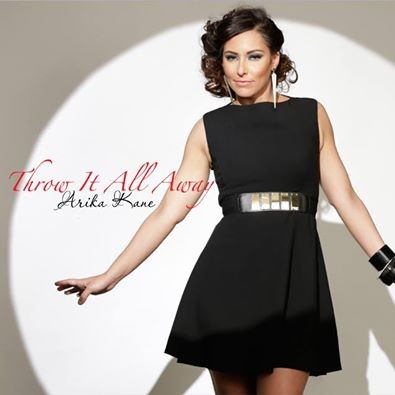 Some of the most talented artists in the music world are also some of the most underrated and unheralded.  It shouldn't be that way, but life isn't exactly the fairest thing.  Rising past the adversity of a music industry characterized by trends and sex appeal rarely wins commercial success, but sometimes being resolved not to cave in because it's 'easier' is a virtuous, respectable thing. For Arika Kane, she seems determined to 'stay in her lane,' which is a good thing. 
Arika Kane isn't a household name – yet.  She hasn't sold millions of albums or quite established that dominant, commanding presence in a cutthroat industry. Those completely unfamiliar will be surprised to hear that Kane is preparing to release her third album! With two albums previously released (Arika Kane and Substance), arguably, Kane's career status is somewhat 'under the radar.'  Liken her to the Bubbling Under Billboard 100.            
All things considered, Kane has persevered past the adversity and has found a place for her music via VH1.  Kane, a pop/R&B singer/songwriter, currently provides the theme song to Hollywood Exes, "Make It."  "Make It" wasn't Kane's first foray into songs used on TV, but certainly mark a huge stepping stone by all means. "Make It" was featured on Kane's debut album, Arika Kane (2011).  You can read more about her VH1 success here. 
Kane, like any musician with high aspirations, continues to strive for even greater opportunities.  Continuing to build off the momentum of "Make It"/ previous TV ventures, she scored earlier in the year with a high profile pairing with adult contemporary R&B artist Brian McKnight on single, "It's There."
McKnight has cooled off in popularity since his heyday, but don't get it twisted – he's had massive success and possesses elephantine musicianship. Pairing with McKnight is nothing short of another "W" for the burgeoning artist.  The vocal chemistry between the two – superb!
If you haven't heard Kane sing, you should definitely check her out.  Kane has plenty to offer from both a vocal and songwriter's standpoint. And oh yeah – she just dropped a new single, "Throw It All Away," which became available July 29.  Groovier and peppier than her duet with McKnight,  "Throw It All Away" gets the feet tapping.  If you need an artist to fill that contemporary R&B/pop/urban gap, look no further than Connecticut's own Arika Kane.