Music Review: Say Anything's 'In Defense Of The Genre' Satisfies, Challenges Listeners

Say Anything
's
...Is A Real Boy
caught most of the music scene off-guard, despite the buzz rumbling from inside the genre (rock, punk? does it matter?). Full of desperate lyrics that cut into cliques of people and music, frontman Max Bemis poured his life and well-being into the album – he recorded every instrument except drums - and a few years after the album's release he was admitted into a hospital with bi-polar illness. With the illness mostly behind him, Bemis re-grouped and wrote another giant concept album,
In Defense of the Genre
.
The only thing more staggering than the two-CD collection's run time of an hour and 30 minutes is the list of musical guests that join Say Anything in telling the tale of Bemis' disorder, rehab, love, and music.
Pete Yorn
,
Adam Lazzara
,
Anthony Raneri
,
Hayley Williams
,
Chris Carrabba
,
Trever Keith
,
Chris Conley
,
Matt Skiba
,
Gerard Way
,
Andy Jackson
,
Jordan Pundik
,
Kenny Vasoli
... the list goes on. Thankfully, these guests don't hijack the songs. Instead, their vocal presence is heard in the chorus in the background of many of the tracks. Fans of these artists will be able to hear the unique twang of each one as they belt out lyrics behind Bemis. Still, there are songs in which the guests step up for their own brief, solo vocals: Chris Conley offers Max a Xanax and forgives him for having to drop out of an opening gig due to his disorder in
Sorry, Dudes. My Bad.
Hayley Williams plays the part of a seductive female voice during Bemis' hospital stay in
Church Channel
. Gerard Way quickly spews a diatribe in front of what sounds like a hoedown on the title track.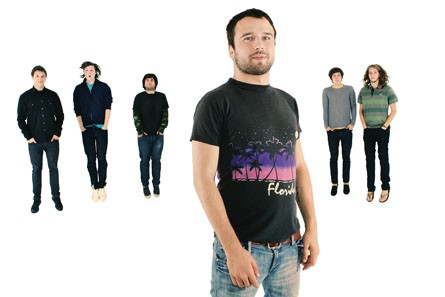 The tunes themselves run the gamut from relentless hard rock, to heartfelt acoustic, to rock augmented with electric beats, to the fresh show tunes feel of
That Is Why
.
Baby Girl, I'm A Blur
, the first single, has that distinct
Nine Inch Nails
thump throughout. Max plucks a mandolin during the syrupy-sweet
Retarded in Love
.
The Word you Wield
sounds like a B-side to
Weezer
's
Pinkerton
. For a concept album that runs longer than some feature movies, there are no low points, nor throw-away songs in
Defense
.
The songwriting carries the same feel as
...Is A Real Boy
– it needs to be taken layer-by-layer, just like an onion. At first you hear the hooks and some of the lyrics, but with each replay you figure out what Bemis is saying. The next step is trying to figure out what he's saying tongue-in-cheek and what is to be taken verbatim. Sometimes you'll shake your head and not agree with Bemis' opinions, while others give one an epiphany. For example, the first thought Max has after gaining a girlfriend is "I'll need new contraceptives!" Then there's the hilariously-un-PC "You haters know it's true/ Jesus died a Jew" chorus of
Died A Jew
. Either way, it's hard to ignore the way Bemis' vocals carry the very essence of sincerity and energy. There are few lyricists that would attempt a line like "let's spend the night entwined out on the boardwalk in sickly summertime/ like the yin and the yang of the afikomen" (
Shiska
) or "You lack the curves that prove a proper lady/ A slender slave with sluttish, sleepy eyes/ Though once I was emoting/ And
Bono
-lyric quoting/ I have found another, be my guest and die" (
That is Why
).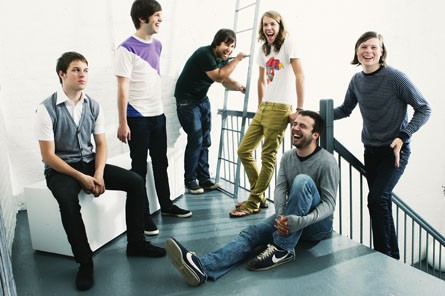 Suffice to say, Say Anything has not let their new home on a big label stifle their creativity - nor their generosity. A huge two-disc album signed and with a t-shirt is only $20 on their
official site
. While opponents of this certain brand of music will continue to scoff and sneer after first glace, fans should have these songs spinning through their players and through their minds for quite some time.
You Gotta Listen To:
That Is Why
Shiska (Girlfriend)
Baby Girl, I'm A Blur
Spores
The Word You Wield
Have At Thee!

Casey Johnson
Starpulse.com Content Editor