Music Review: 'Nothing Was The Same' Gives Drake Another Juggernaut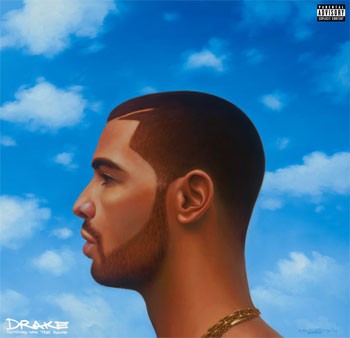 Years ago, who would've foreseen the new breed of hip-hop, one combining super relaxed tempo, elements of contemporary and alternative R&B, and emo sensibility?  The answer is no one, but I speak for the music community that we are all glad that one Aubrey Drake Graham came along, mixing the flow of mentor Lil Wayne with his own unique artistic attributes.  On his third album Nothing Was The Same, Drake is on the same vibe, and that's perfectly fine.  Sure Nothing Was The Same doesn't supersede the MC's past juggernauts, but it certainly does further enhance his discography.  There may never be another "Best I Ever Had" or "Over", but it is safe to say Drizzy holds it down, easily.
"Tuscan Leather" initiates Nothing Was The Same, sporting a prominently featured sample of Whitney Houston's "I Have Nothing" as well as samples from hip-hop sampling darling Curtis Mayfield ("When Seasons Change (Live)").  Quite a captivating start aside from its ambitious six minute duration, each verse of this epic rap features a different sound, each utilizing the Houston sample uniquely.  Drake, as always, throws out some clever rhymes, including his non-commercial yet commercial status ("This is nothin' for the radio, but they'll still play it though / cause it's that new Drizzy Drake, that's just the way it go / heavy airplay all day with no chorus / we keep it thorough, n***a, rap like this for all of my borough…"), a play on the alphabet ("Like aye, B I got your CD, you get an E for effort"), or Ellen DeGeneres ("Yeah, Tom Ford tuscan leather smelling like a brick / degenerates, but even Ellen love our sh*t…") Sigh, an essay could be written just on the opener, and that should say something.
On "Furthest Thing", Drake decides to deliver a hook: "I still been drinkin' on the low / mobbin' on the low / smokin' on the low / I still been plottin' on the low / schemin' on the low / the furthest thing from perfect / like everyone I know…"  Maybe its simple to an extent, but Drizzy sho does rock it out.  To make the alluring cut more alluring, a change of pace occurs during the bridge and on verse three.  Tapping his inner Rick Ross (think "Bury Me A G from Self Made 2), Drake states "This the sh*t I wanna go out to / play this sh*t at my funeral if they catch me slippin'…" Drake fails to mention clean drawers though…maybe he don't care!
Anyways, "Started From The Bottom" was not heavy on my rotation when it bowed.  It seemed a bit of a disappointment from the MC who seems unable to miss.  Contextually and after having reservations, "Started From The Bottom" is solid and of course honest.  Just as Drake says, he "…done kept it real from the jump…" Apparently the DJ Khaled song was real talk: "No new n***as, n***a we don't feel that / f**k a fake friend, where your friends at?" #NoNewFriends for Drake.
If "Started" still didn't feel like first-rate Drizzy, "Wu-Tang Forever" more than atones. Moody, slow, and addictive, "Wu-Tang Forever" feels like the perfectly written number for Drake.  The lengthy hook is nothing short of a treat, while the bridge is perfect: "How you feel about coming home with a n***a for the night? / if you nervous, hit the lights, I know we only f**kin' out of spite / cause your man don't do you right, do you right, I could f**k you so good / then I hit you with the 9am in Dallas…"  "Own It" which proceeds is truly the follow-up, serving as a fine companion piece to "Wu-Tang Forever".  Like so many urban artists seem to be singing/rapping, "…I don't wanna…, I wanna make love…" Alrighty then.
"Worst Behaviour" is anchored by a hard beat and maybe more noticeably, harder and edgier language.  Drake doesn't spare us from the m-f's, adding emphasis to his rhymes.  His best moment is from verse three, which is overloaded with production: "Who's hot, who not / tell me who rock, who sell out in stores / you tell me who flop, who copped the new drop / whose jewels got rocks, who else makin' rap albums / doing numbers like pop?"  He's telling the truth… his numbers speak for themselves.
On "From Time" the burgeoning R&B singer Jhene Aiko provides vocals on the hook, intact with her gentle, yet distinct sound.  "I love me, I love me enough for the both us / that's why you trust me, I know you been through more than most of us / so what are you? What are you, what are you so afraid of? / Darling you, you give but you cannot take love" Drake doesn't let Jhene still the limelight, delivering numerous standout moments including "I want to take it deeper than money, pussy, vacation / and influence a generation that's lackin' in patience…" The best though? A reference to his career: "I'll never forget it / cause that night I played her three songs / then we got to talkin' 'bout something we disagreed on / then she start tellin' me how I'll never be as big as Trey Songz / boy was she wrong, that was just negative energy for me to feed off…"
"Hold On , We're Going Home" shouldn't be the highlight it is.  There is nothing 'hip-hop' about this cut, yet this 80s-styled R&B/pop cut is a pleasure to partake of. It's like the most delicious dessert ever… Scrumptious! "I got my eyes on you / you're everything that I see / I want your hot love and emotion endlessly…" It's a turn on from the opening groove, honestly.  "Connect" has a hard act to follow, particularly settling the restless artist back into a rap-minded set.  Drake has no issues though, well except for "swanging, eyes closed just swanging." "Connect" could basically be equated with sex as it is chalked full of the sensual including "…At least we try for home run ever time" or "I remember my schedule was as flexible as she is / she call and tell me be here before the sun up / I be dressed before we hung up…" Must be some kinda woman.
Boi-1da's minimal beat is a perfect backdrop for Drake to spit over on "The Language", another worthwhile showing.  Drake's rhythmic approach on the hook is a highlight.  "305 to My City" is a showstopper, featuring Detail on the simplistic, but strong hook: "Ooh, 305 to my city / I get it, I get it / I get it, I get it / I swear that I get it…" The tempo grinds, perfectly allowing for Drake to be on autopilot, even if it is stripper references: "They don't work as hard as you, damn that's so crazy / at the end of the night when you count, numbers don't lie…locker room full of money, girl you just did it …" "Too Much" continues upmost consistency, featuring a clever sample from Sampha.  Even so, closing cut "Pound Cake / Paris Morton Music 2" will easily gather more attention, featuring samples of Jimmy Smith, Ellie Goulding, and of course featuring Jay-Z.  Drake certainly backs up his rhyme "…I'm authentic, real name, no gimmicks / no game, no scrimmage, I ain't playing with you n***as at all…" throughout Nothing Was The Same.
How good is Nothing Was The Same.  Very good, like Drake's previous work.  Comparatively though, Nothing Was The Same isn't necessarily better than either Thank Me Later or Take Care.  Both proved to be hard acts to follow, something Drake's latest would always struggle to do. That said, Nothing Was The Same is still easily among the years' best hip-hop efforts with Drake's emo-R&B/rap endeavors continuing to pay off.
Favorites: "Tuscan Leather"; "Started From The Bottom"; "Wu-Tang Forever"; "From Time"; "Hold On, We're Going Home"; "305 To My City"
Verdict: ✰✰✰✰
Drake | Nothing Was The Same | Republic | September 24, 2013