Music Review: Matthew Morrison, 'Matthew Morrison'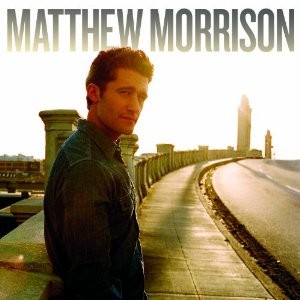 Matthew Morrison, "Matthew Morrison" (Mercury): Glee star Matthew Morrison's self-titled debut album is a guilty pleasure. It's not a CD that I'd admit I own, but it's one I do enjoy listening to.
Make no mistake about it, Morrison can sing; he spent some time as part of a boy band and has credits in several musicals to his name. I'm not a fan of the FOX series, but I loved his version of the Georgia Stitt classic "One Day More" on the 2007 compilation This Ordinary Thursday, so I figured his solo album might be a pleasant listen. It is: aside from the innuendos you're probably already aware of in the first single and lead track "Summer Rain," this is an unprovocative, lighthearted record that's perfect to put on for a long car drive or when just relaxing around the house.
There are some catchy pop tracks on the CD, namely "Summer Rain" and the second track "Still Got Tonight," which got stuck in my head for awhile after I listened to it. And there's nothing wrong with those - honestly, who doesn't want to listen to a catchy pop song every now and then? The much talked about duet with Glee costar Gwyneth Paltrow, herself a talented singer who's appeared on a few soundtracks, is as good as advertised.
What I like most, though, are the less mainstream songs, like the impressive "My Name," which the actor co-wrote, and the soulful "It Don't Matter To The Sun." The musical arrangements for both tracks are pretty simple, which allows them to showcase Morrison's voice. He's not necessarily the most unique male vocalist, but his voice honestly is enjoyable and even a little bit relaxing to listen to.
If something falls flat here, it's Morrison's pairing with Elton John on a medley of "Mona Lisas and Mad Hatters" and "Rocket Man." Their voices just don't blend well in my opinion. The other misfire is "Don't Stop Dancing," which sees Morrison try to tackle dance pop and ends up being a total head-scratcher.
I'm glad that Morrison didn't choose to phone it in and release a generic commercial pop album. Having said that, I wonder if parts of the Glee audience will be disappointed by a CD that is of a different sound than they've seen covered on the show. I know younger people who watch Glee and couldn't name Elton John in a lineup, because that's just not music they're familiar with. While Glee has covered a huge catalog of differing artists, listening to tunes by unfamiliar musicians packaged within the show is different than voluntarily seeking out an entire album of it. Will teenage viewers that are used to artists like Rihanna and Lady Gaga turn their noses up at an album that involves Sting and the use of a ukulele? I sincerely hope not.
With his debut album, Matthew Morrison isn't reinventing the wheel, but he doesn't need to. He's successfully showcased his vocal talent and his own sound outside of his role on Glee. If you're a fan of pop music, this is an album that's worth listening to. I'm not going to tell my friends I bought it, but I think I'll be leaving it in my car just a little bit longer.
Rating: 3.5/5
Purchase your copy of Matthew Morrison through Amazon for $9.99!