While celebrities seem to having twins left and right these days, not since the
Nelson Twins
have we seen so many twins on the music scene. Check out our list of the music twins that are having us do double takes.
1. Kaulitz Twins / Tokio Hotel
Eighteen year old twin rockers Tom and Bill Kaulitz are members of the band Tokio Hotel from Madgeberg, Germany, and they sport very unique looks in style that you wouldn't really know that they are identical twins just by looking. Tokio Hotel just released their debut title Scream in the U.S.
2. Madden Twins / Good Charlotte
Famed twins
Benji
and
Joel Madden
have been rocking us with their Power Pop band Good Charlotte more than twelve years, and they are still makin' hits. Good Charlotte is currently touring in support of their last release
Good Morning Revival
.
3. King Twins / Cherish
"Killa" twins Felisha and Fallon King make up half of the sister act Cherish from Atlanta, Georgia, and they are grooving us this summer with the R&B sounds off their album The Truth.
4. Quin Twins / Tegan and Sara
Tegan and Sara are identical twins from Canada, and the music making pair's quirky sound have made them darlings of the Indie music world.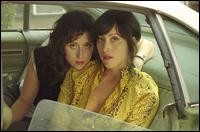 5. The Watson Twins / The Watson Twins
Twins Chandra and Leigh Watson are the music act known as The Watson Twins, and they are mostly known for their past musical collaboration with singer/songwriter
Jenny Lewis
. The duo just released their own debut album called
Fire Songs
.
6. Origliasso Twins / The Veronicas
Though neither are named Veronica, Jessica and Lisa Origliasso are the twins that make up the infectious Aussie Pop act known as The Veronicas. Their inspiration for the band's name comes from cartoon character "Veronica Lodge" of the popular Archie comics.
7. The Albino Twins / Nina Sky
Nicole and Natalie Albino make up the popular duo from Queens, New York known as Nina Sky. Known worldwide for their classic worldwide Dance hit "Move Ya Body," these twins hope to release a new album later this year.
8. Jarman Twins / The Cribs
Twins Ryan and Gary Jarman are 2/3 of the Indie music act known as The Cribs. They are based in England, and are causing quite a raucous overseas with their guitar sound.
9. Johnston Twins / Biffy Clyro
Scottish twins Ben and James Johnston make up the backing members of the heavy Alternative/ Rock act Biffy Clyro. The band is recognized for their most successful release to date
Puzzle
.
10. Sargent Twins / Clap Your Hands Say Yeah
Musicians Lee and Tyler Sargent have been on the music scene for three years now, and these twins are causing a stir on the underground music scene.
Story by
Claudine Paul
Starpulse contributing writer