Muppets Forever: The House That Henson Built

For nearly 40 years
Jim Henson's
Muppets have captivated audiences young and old, whether down the block on
Sesame Street
, from backstage on their own syndicated variety show, or even on the big screen. They've earned fans in
Kanye West
,
Feist
,
Weezer
, and
Jason Segel
, who's been commissioned to bring them back to the moviehouse. This is the story of Jim Henson and how he built his beloved empire from a discarded housecoat and a pair of ping-pong balls.
When I lived in L.A., one of my favorite pastimes was walking up La Brea Avenue toward Hollywood Boulevard. Amid the hip boutiques, chain joints, phantom relics of faded cinema, and the few long-empty, barely upright residential houses stands a structure straight out of an old English village. Not surprising, since it was built in 1917 for Charles Chaplin. His studio resembled what wealth must've looked like to a hardscrabble, dirty-faced pipsqueak in 19th century London. The Little Tramp left it in the early '50s, and for years it was home to Herb Alpert's A&M Records.
But there's absolutely no mystery as to its current tenant. All you gotta do is look up.
This is Henson Studios, where the Muppets have resided since 1999. But for some reason I never wanted to go inside. What terrible things would I see? An open-mouthed Kermit dangling from a hook? Gonzo, double-folded on a countertop? Even as an adult I couldn't imagine the Muppets as anything but living, cogent creatures who just happened to be made of fabric and fur.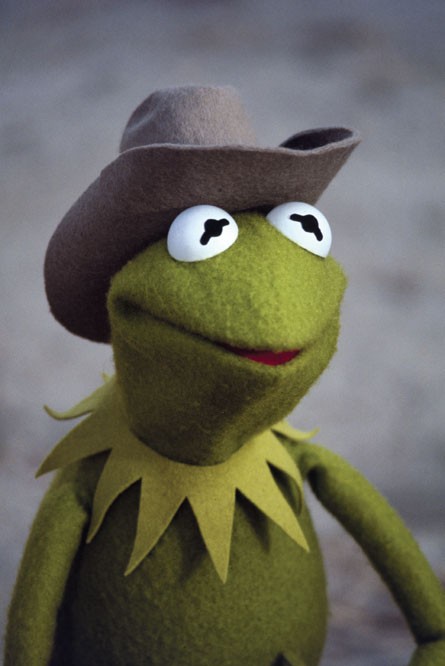 There'll be no one left hanging or folded this December 17, when the Henson menagerie takes part in NBC's high-kicking A Muppets Christmas: Letters To Santa. They're joined by the usual array of impressive guest stars:
Whoopi Goldberg
,
Uma Thurman
,
Nathan Lane
,
Jane Krakowski
, and even Big Apple mayor Michael Bloomberg. All will be instrumental as singing and/or dancing partners en route to the North Pole to save Christmas.
The Muppets plan to return to the big screen in 2010 after a decade-long absence (their last film was 1998's lamentable
Muppets From Space
), thanks to
Forgetting Sarah Marshall
writer/star Jason Segel (
Freaks And Geeks
,
How I Met Your Mother
) and Marshall director Nicholas Stoller. Segel outlined the basic plot to CHUD in March: "[It] is going to be incredibly old fashioned, with the familiar Muppet characters putting on a show to save an old theater. The danger? An evil character wants to tear the place down to get at the oil underneath."
Fans are heartened by Segel's affection for the franchise. "I just remembered being ten years old," he told the Web site Coming Soon last spring, "and for me, Kermit was
Tom Hanks
. Kermit is like the original everyman, and I remembering watching the old Muppet Show and seeing Peter Sellers and people like that on. I've always had Muppet pictures and figurines all through my house. Now that I'm getting to write it, I feel like all my dreams are coming true."
Jim Henson was a college freshman in 1954 when he began working on a five-minute puppet show for Washington, D.C.'s WRC-TV. Sam And Friends combined live action with Henson's puppetry, which went beyond the television norm. As universally adored as Howdy Doody was, he was a marionette controlled by strings and crafted from sturdy, less emotionally giving wood. Kids adored him but knew he wasn't real. Henson's friends, on the other hand, were made of more malleable materials, like foam and rubber, their movements more graceful and natural.
All Henson needed for his most lasting character was a green coat his mother had tossed and ping-pong balls sawed in half, with "eyes" scribbled into the white void. Naturally, it would evolve over time and even change species — it lacked the collar that would later identify it as amphibious — but if you tuned to WRC anytime from 1955 to 1961, you would've been introduced to what became Kermit the Frog.
Although Kermit is probably the most beloved of the Henson stable, Rowlf the Dog was its first mainstream star and the personality to whom Henson felt the most kinship. He was designed by Henson and built by Don Sahlin in 1962 to hawk Purina Dog Chow, then he hung with Jimmy Dean on the singer's ABC variety series through 1966. (Wonder what Rowlf would've thought of those breakfast sausages his old pal'd be cookin' up in few years' time.)
While Rowlf and Jimmy wrapped up their cathode yukfest, a woman named Joan Ganz Cooley hosted a dinner party at her Manhattan apartment with strategically invited guests, all of whom, like her, played integral roles in public television or were potential investors in a venture she had in mind. They'd gathered to brainstorm for kids' programming and would begin working under the collective banner Children's Television Workshop in 1968.
Of the many ideas CTW developed, the one they kept returning to built on the phrase "Open Sesame," from Ali Baba And The Forty Thieves. Few were enamored of the eventual title, but after an interoffice memo from executive producer and CTW vice president David Connell soliciting alternates yielded nothing better, the company went ahead with Sesame Street.
Although Henson and Sesame Street are forever linked, the show wasn't a Henson creation. Connell came up with Street's structure, insisting that there be no "host" as on Captain Kangaroo (his previous job) or Mr. Roger's Neighborhood. He also proposed that the program be "sponsored" by numbers and letters of the alphabet. It was senior producer and head writer Jon Stone who suggested Henson as a possible collaborator. On that recommendation, Henson was hired.
Joan Ganz Cooley didn't know what to make of the new guy at first. He arrived at the CTW-hosted Sesame Street seminars dressed, as Cooley would later recall, like a hippie, "with hippie clothes and a hippie beard." She was, frankly, terrified until someone explained that Henson's kind demeanor would likely prevent him from killing her. Henson, too, was apprehensive about being associated with a kid's show. But he relented after assurances that the program would also appeal to adults.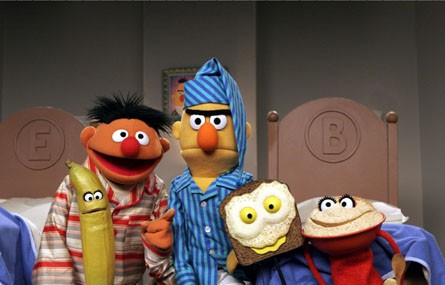 After a battery of tests and a half-hour NBC preview, Sesame Street debuted on public television on November 13, 1969. It was an instant hit with audiences (and, well, most critics), who deluged their local broadcasters with phone calls and letters of support. Among them: a thumbs-up from President Richard Nixon. Children responded immediately to Henson's street gang: Big Bird, Grover, Cookie Monster, Count von Count, Kermit the Frog (having finally found his identity), mismatched roomies Bert and Ernie, and even filthy old Oscar the Grouch (then a dingy-carpet orange!), who'd likely called the hubbub "cruddy."
The show brought Henson increased exposure, but he was afraid of being typecast, so he began pursuing less kid-friendly ventures on the side. In 1975 he created new Muppets for the first season of NBC's Saturday Night Live, but his segments, set in the mythical land of Gorch, didn't fit the series' format, and what's worse, the writers hated them. After 11 sketches and a few additional cameos, Skred and his monster crew were quietly retired and Henson was released.
Watch a Muppet Show clip HERE!
Henson launched
The Muppet Show
in 1976 as a syndicated series that, thanks to the recently enacted prime-time access rule, could feasibly air on major network affiliates from 7:30 to 8 p.m. Starring Kermit the Frog and his pugilistic porky paramour Miss Piggy, the program focused on the backstage hullabaloo surrounding, well, a Muppet production. It initially had problems booking guests until dancer Rudolf Nureyev's second-season appearance. For whatever reason, the positive publicity opened the floodgates for a raft of guest stars over the program's five-year run, more than 100 in all, including top-tier performers like
Elton John
,
Bob Hope
,
Alice Cooper
(who could've been a Muppet himself),
Loretta Lynn
,
Cheryl Ladd
,
Gilda Radner
,
Kenny Rogers
,
Christopher Reeve
,
Gene Kelly
,
James Coburn
,
Brooke Shields
,
Debbie Harry
,
Johnny Cash
,
Linda Ronstadt
, and even
Paul Simon
.
While the show was still in production, the Muppets made their box-office debut in 1979's
The Muppet Movie
. Ostensibly the Muppets' origin story, it's more of an entertaining road movie starring Kermit and Fozzie Bear as Crosby and Hope, with the remaining Muppets (and star cameos from folks like
Steve Martin
,
Mel Brooks
, and
Richard Pryor
— it was cool to hang with felt!) as colorful partners and Miss Piggy handling the love-interest role. It grossed $65 million in its initial run and spawned a series of films. Henson would also collaborate on non-Muppet fantasy projects like The Dark Crystal and
Labyrinth
, both of which required still-astonishing puppetry skills.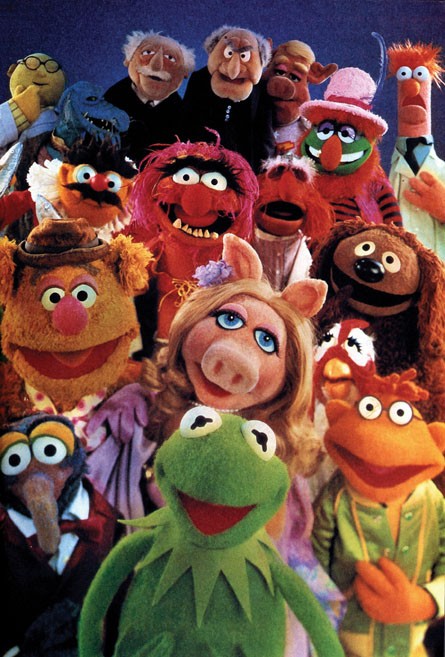 But none had a moment more indelible than Kermit with a banjo, pining for life beyond his swampland home. Sure, he was a frog, but he spoke for any species with a dream. I can't watch that without thinking of Jim. That song seems to sum him up. I miss him. He died suddenly and unexpectedly at age 53, on May 16, 1990, less than a month before I graduated from high school. It wouldn't be an exaggeration to say that it cast a discernable pall over what was otherwise a joyous occasion.
Like Henson Studios (now under the Disney umbrella), Sesame Street still occupies a vibrant and active address. Closing in on its 40th year, the show continues to captivate the young and old, and even some of its now-famous fans from previous generations have graced its hallowed block. But perhaps the most energetic of recent visitors was indie siren Feist, who opened Season 39 by reveling in numbers. Wonder what the Count thought of that.
Rapper
Kanye West
, a Muppet believer from way back, is currently developing a hip-hop series for Comedy Central in the Henson vein. And the gawk-rockers of Weezer fulfilled a lifelong dream in 2002 by appearing on the long-cancelled Muppet Show as the musical guest, with Animal at the kit after the love-struck Miss Piggy kidnaps drummer Pat Wilson. Muppets are hip!
By Cory Frye,
GetBack.com
Drop by
GetBack.com
for your daily dose of pop culture pleasure — music, movies, games, and more.