Mumford & Sons' Injured Bassist Makes Triumphant Return At Glastonbury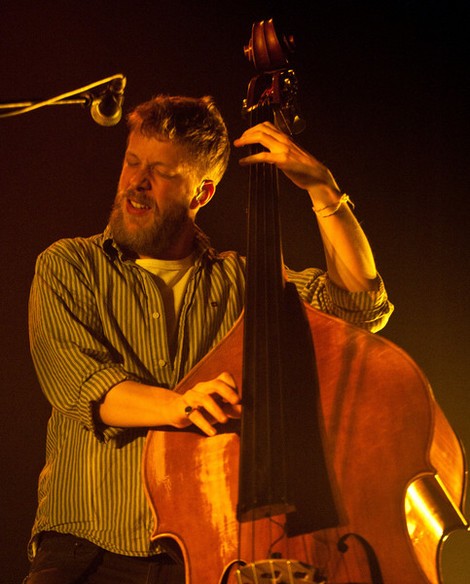 On Sunday night, Mumford & Sons rocked the Glastonbury festival in England, performing less than a month after bassist Ted Dwayne had a blood clot removed from his brain.
The band belted out a version of the Beatles song "With a Little Help from my Friends" with fellow bands Vampire Weekend, The Vaccines and Swedish duo First Aid Kit, who picked up various instruments to help play the finale.
The folk rocker's frontman Marcus Mumford addressed his bandmate's surgery by telling the crowd earlier in the set:"Ted's f**king alive isn't he!"
Dwanye underwent an operation on June 13. The following day the band posted on Facebook: "The surgery went well, and the excellent medical team helping him are very pleased with his progress. He has been nothing short of heroic in how he has handled the whole ordeal, and now it has been medically proved that he does indeed have a brain."
The band was forced to pull out of the Bonnaroo Music Festival and the Telluride Bluegrass Festival. They also canceled a show in Bonner Springs, Kansas.
Bandmate Ben Lovett thanked the festival's boss Michael Eavis, telling concertgoers, "I think we all owe a massive thank you to Mr. Michael Eavis and his family. Just for having us here and letting us be complete idiots on their farm for a couple of days."