MTV's Smash Hit Series Returns To DVD! Win A Copy Of "Laguna Beach" Season 2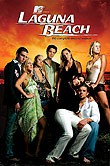 This summer gets even hotter when "
Laguna Beach
-
The Complete Second Season
" arrives on DVD August 8, 2006 from MTV Home Entertainment and Paramount Home Entertainment. Season two follows
Kristin
,
Stephen
,
Lauren (LC)
, Jessica, Alex,
Talan
, Taylor and Jason as they continue to become entangled in love affairs, deal with teen angst and weather another perfect day in paradise. "Laguna Beach - The Complete Second Season" three disc set contains all 17 episodes from season two plus loads of sizzling bonus features including deleted scenes, cast interviews, cast home videos and childhood photos, season highlights, featurettes and a Season Three sneak preview.
MTV delves deeper into a glamorous teenage world of wealth and beauty, gaining access to the tight-knit power cliques that live there. Watch as these friends share experiences through parties, relationships, love triangles and small town gossip. Welcome to Paradise, otherwise known as Laguna Beach, California - where the angst and tumultuous affairs of prime-time dramas are real life.
The phenomenally successful second season of the powerhouse series reached over 88 million fans and was the most watched program in its time period among viewers ages 12-24 across all of television, even out-delivering broadcast.
The DVD set will be released eight days before the start of the all-new third season of MTV's "Laguna Beach," beginning August 16 at 10pm (ET/PT). The newest season of "Laguna Beach" features all new players, but the game is the same - scheming high school politics of hookups, breakups, love triangles and popular cliques of seasons' past. This year, a variety of coming of age stories that surround high school life will be revealed. A girl will find love for the first time, but will she hold onto it? Will a lifelong friendship turn into something more? Does a high school rock band have a chance at making it big? And will a girl ousted from the popular clique find her way back in? Tune in to find out!
Enter HERE to win a copy of "Laguna Beach - The Complete Second Season" from Starpulse, MTV and Foundry Communications.