MTV's 'Rob & Big' Debuts Tonight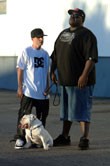 Meet MTV's modern-day odd couple as the network premieres "Rob & Big," a new reality comedy series starring professional street skateboarder, Rob Dyrdek and his bodyguard and best friend, Christopher "Big Black" Boykin, along with their talented pup, Meaty.
Premiering Thursday, November 2, at 10:30PM (ET/PT), MTV showcases the unpredictable daily lives of this unlikely duo living together in Rob's Hollywood Hills home where they experience the craziness of domestic life.
The story of "Rob & Big" is simple: After years of being hassled by cops for street skateboarding, Rob hired Big Black as his own personal bodyguard with one goal in mind -- to ride whenever and wherever he wanted. From that point on, this unusual twosome became instant buddies who were always by each other's side. From adopting their lovable bulldog Meaty, and throwing their first house party, to getting in shape and even joining a dating service, this dynamic duo leads a very strange, unexpected life together.