MTV's New Generation Of Boy Band Hopefuls Are 'Making Menudo'; Premiering Oct. 25

A new legion of fans will discover if dreams come true for a group of aspiring young performers with the premiere of MTV's reality series
Making Menudo
, beginning October 25 at 10:30pm ET/PT, following the fourth season premiere of
Run's House
. In spring 2007, auditions were held in Miami, Los Angeles, Dallas and New York for bilingual male singers and dancers between the ages of 13 and 19. Hundreds of young men were seen, but only 15 were selected. And yet, only now does the real work begin…on "Making Menudo," a 10 episode journey to reveal the next boy band superstars. Episodes will be re-broadcast on MTV Tr3s on Saturdays at 2pm ET/PT.
The series begins with the 15 finalizts flown to Miami where they are immersed in a "Menudo Boot Camp" under the direction of manager, Johnny Wright (
Backstreet Boys
,
*NSYNC
,
Janet Jackson
,
Justin Timberlake
), musical director/vocal coach, David Coury (Backstreet Boys, *NSYNC,
Leona Lewis
), and a team of choreographers. Each week, three selected finalizts will be grouped together and given 72 hours to learn a surprise song, multi-part harmonies included, accompanied by a dance routine. When the time is up, they'll have to jump onstage in front of a live audience filled with hundreds of screaming fans to perform the song and dance routine. Johnny Wright and his team will be on hand to evaluate them and at the end of each performance someone's dream may come true. However, it will be bittersweet as the road to Menudo will always end for at least one finalist after every performance.
Along the way, the prospective band members will be inspired by visits from Backstreet Boys' Howie D,
Frankie J
,
Wilmer Valderrama
, record producer Danja, songwriting collective The Clutch, and Epic Records president, Charlie Walk. And for the five boys who make it to the end, a recording contract with Epic Records, a studio album, a world tour, and millions of screaming fans await.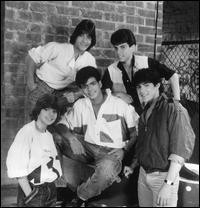 The original Menudo took the US and Latin America by storm during its run in the late 70s and 80s, recorded 35 albums, sold more than 60 million records and set concert attendance records worldwide. A legendary five member boy band from which superstars such as
Ricky Martin
and Robby Rosa emerged, the group even continues to hold the world record for performing in front of the largest live audience in music history to this day.
Fans can log on to www.menudo.mtv.com and check out an exclusive Menudo blog, cast and episodic photos, as well as bios and elimination breakdowns. Each week, the latest new episode will be available in its entirety online after it airs, plus a sneak peek of the following week's episode. Also, full episodes will be available on MTV Mobile and MTV Tr3s Mobile.
Reveille (producers of "The Office", "Ugly Betty" and "Date My Mom" among others) is producing the MTV series in association with Menudo Entertainment. Rick De Oliveira is Executive Producer for Reveille. Lois Curren and Lily Neumeyer serve as Executive Producers for MTV.
MTV Networks, a unit of Viacom (NYSE: VIA, VIA.B), is one of the world's leading creators of programming and content across all media platforms. MTV Networks, with more than 130 channels worldwide, owns and operates the following television programming services - MTV: MUSIC TELEVISION, MTV2, VH1, mtvU, NICKELODEON, NICK at NITE, COMEDY CENTRAL, TV LAND, SPIKE TV, CMT, NOGGIN, VH1 CLASSIC, LOGO, MTVN INTERNATIONAL and THE DIGITAL SUITE FROM MTV NETWORKS, a package of 13 digital services, all of which are trademarks of MTV Networks. MTV Networks connects with its audiences through its robust consumer products businesses and its more than 200 interactive properties worldwide, including online, broadband, wireless and interactive television services. The network also has licensing agreements, joint ventures, and syndication deals whereby all of its programming services can be seen worldwide.