MTV VMAs Flashback: Miley Cyrus & Robin Thicke Cause Controversy In 2013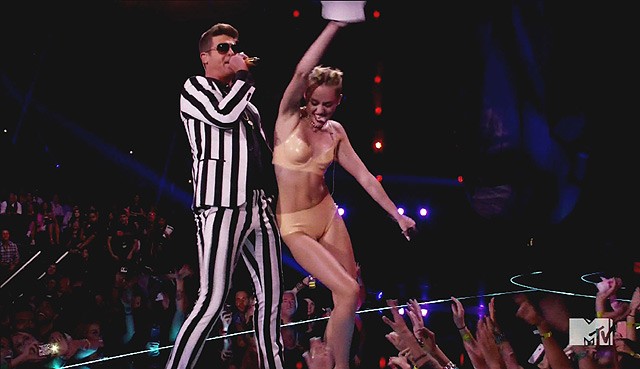 Sure, it was just a year ago, but Miley Cyrus and Robin Thicke had people talking for months last year following their performance of Thicke's hit "Blurred Lines" at the MTV Video Music Awards.

Their raunchy performance together (which may or may not have set the wheels in motion for Thicke's 2014 split from wife Paula Patton), which featured lots of "twerking" and Miley even grinding on Thicke's crotch, caused a huge controversy over what kids should be seeing on television.

This year, the Parent's Television Council (PTC) has asked MTV to tone things down, but it sounds like those requests are falling on deaf ears.

"The beauty of the VMAs is we never know what's going to happen," VMA executive producer Amy Doyle explained to FOX411. "We put the best artists and some of the world's most interesting personalities in one room, sit back and watch the magic happen."


PTC director Dan Isett says that despite the seemingly unpredictable during the telecast, MTV scripts the show and knows all about what's going to happen.

"Last year's content, in particular, created quite a firestorm for a number of reasons," said Isett. "It was rated appropriate for a 14-year-old child last year.

"What we're talking about is not the sort of one-off, people say goofy things when they're at the microphone," Isett adds, "We're talking about the scripted content that producers know ahead of time."

It doesn't sound like MTV plans on changing much this year. Although Miley will be present at the awards ceremony, she won't be performing.

"Every year there is an expectation for unpredictable moments, this year that expectation feels heightened because last year is still fresh in everyone's minds," Doyle added. "By design, each year we re-invent the show so it feels uniquely fresh."

This year the early buzz is about Nicki Minaj, who just released the raunch-fest video for her new single "Anaconda," and Aussie rapper Iggy Azalea.

What's going to happen on stage this year? We'll just have to wait and see.

The 2014 VMAs airs tonight, Sunday, August 24 at 9pm (eastern) on MTV.