MTV: Video Roundup Ep. 3: Merchandise, Mount Eerie, WHY?, Frankie Rose, Chrome Canyon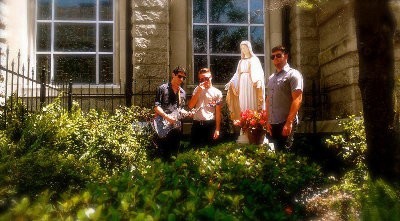 With so many excellent videos floating around, sometimes you just can't get to them all, but we here at Get eXposed Music surely can. As we continue to pick up the slack for MTV (even though they still have a Music Video Awards show for some reason), use these videos to fill your enrich your life with the sound of music (of something hokey like that).
Merchandise - "In Nightmare Room"
Tampa, Florida premier noise pop trio Merchandise are debuting the brooding music video for "In Nightmare Room", a single off of their recent LP, Children of Desire. See the unsettling, b-movie-esque video below which is heavily influenced by an actual nightmare that vocalist Carson Cox endured last year.
Mount Eerie - "The Place Lives"
Ocean Roar is part two in a pair of new Mount Eerie albums this year. It acts as a counterpoint to the soft synth walls and landscape pondering of Clear Moon, presenting the opposite of that album's clear glints of awareness: a total wall of blue-grey oceanic fog, a half remembered dream of a trip through dense old growth hills to the gnarly winter ocean, in the middle of the night, decades ago.
WHY? - "Sod in the Seed"
Nipping at the ragged heels of their eagerly devoured Sod in the Seed EP, WHY? at last unleash their fifth long-player, a meticulous work of morbid fascination and offbeat romanticism dubbed Mumps, etc. 
Chrome Canyon - "Memories of a Scientist"
Stones Throw is set to release Chrome Canyon's debut album, Elemental Themes on Oct. 9. The inaugural set is blessed with solid circuitry and an organic core: not only those analog synths, but live drums, bass, guitar and Theremin run through hand-built compressors, composed and arranged into a living, breathing whole.
Frankie Rose - "Know Me"
Frankie Rose floated free from her musical history when her second album Interstellarwas released in February to universal acclaim. On it, Frankie took the lessons learned with her debut album - like reverb as the holy route to pop-grandeur, scaling a wall of teenage tears - and transferred those skills into a brave new world mapped out by ten new songs.