MTV To Exclusively Premiere New Movie Musical, 'The American Mall,' August 11

Set in the kind of mall that's always been a home away from home for teens everywhere,
The American Mall
is the story of Ally, a hardworking young woman whose mother has owned a music shop that's been the soul of the mall ever since it opened when Ally was a kid. Ally's singer/songwriter dreams seem to come closer to fruition when she meets Joey, a musician who's moonlighting as a janitor at the mall in order to support his own rock star ambitions. While Joey understands her songs (and heart) like no one else, Ally's happiness and the fate of the music store are threatened when the mall owner's spoiled daughter Madison – who will stop at nothing to get what she wants – becomes involved.
The campaign kicks off with the online destination for "The American Mall" at
www.TheAmericanMall.com
, featuring exclusive behind-the-scenes footage, photos, bios and a community for "mall-aholics". Viewers will feel like they are on the actual set and a member of the crew by accessing personal video diaries created by the stars of the movie. In addition,
Autumn Reeser
, who plays the mall owner's daughter, will give a private tour of the shopping mall where the movie was filmed. Fans can share their very own mall experiences from first date to favorite/least favorite store to best mall food court, plus blog about the upcoming movie at the ultimate mall destination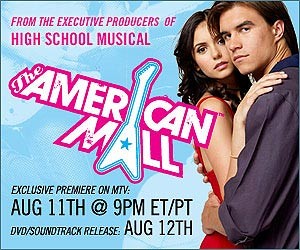 From the executive producers of
High School Musical
, "The American Mall" stars Nina Dobrev (
Degrassi: The Next Generation
) as Ally, Rob Mayes as Rob, Autumn Reeser (
The O.C.
,
Lost Boys: The Tribe
) as Madison Huxley, Yassmin Alers (
Rent
) as Erin, Ally's mom, and Al Sapienza (
The Sopranos
) as shopping mall owner and Madison's dad, Max Huxley. Rounding out the cast are Wade Allaiin Marcus as Ricky, Neil Haskell (
So You Think You Can Dance
) as Drew, David Baum as Stavros, Brooke Lyons (
American Dreams
) as Dori, Blythe Auffarth (
Veronica Mars
) as Alexa, Bresha Webb (
Lincoln Heights
) as Little Penny, Bianca Collins (
Unfabulous
) as Mia and Rodney To as Ben. Shawn Ku directs the movie and choreographs the musical numbers with Bonnie Story (
High School Musical
). Arata Matsushima, Barry Rosenbush, Jeff Yapp and Lisa Silfen are executive producers. Serving as producers are Bill Borden and Terry Spazek.
"The American Mall" premieres exclusively on MTV Monday, August 11 at 9:00 p.m. ET/PT. The DVD and soundtrack will be available Tuesday, August 12.
-
Check out the official site.