MTV Movie Awards Red Carpet: 'Twilight' Stars, 'Hills' Cast & More

MTV's awards shows have become something of a spectacle in the last few years from controversial performances to surprise celebrity events leading up to and surrounding the actual show. That would explain why neither this year's MTV Movie Awards host
Andy Samberg
nor "We Made You" performer
Eminem
, had time to walk the red carpet at the Gibson Amphitheatre at Universal Studios Citywalk last night.
Those that did smile and pose for paparazzi and walk the line of nearly 200 media outlets all hoping to steal a precious few minutes with the talent included the other musical act,
Kings of Leon
, as well as the UK rapper Big Pak, best known in the states for his Orbit commercials. Needless to say, Orbit gum was handed to the fans seated in the bleachers.
The stars of
Twilight
were humble when asked how they felt about being the fan and odds favorite to sweep the show in wins.
Michael Welch
simply shook his head and said it was wishful thinking, while
Kellan Lutz
and
Ashley Greene
told Starpulse that they actually really enjoyed
Slumdog Millionaire
as well. Producer Mark Morgan admitted he was loving the ride "Twilight" has put him on and that he hopes to stay in the young adult genre for a while. Director Catherine Hardwick and young stars
Taylor Lautner
,
Peter Facinelli
(also there to promote Showtime's
Nurse Jackie
),
Kristen Stewart
all sped down the carpet in the final minutes before the show was to start.
Sacha Baron Cohen
walked the red carpet as his newest alter ego,
Bruno
, in only a leopard print onesie, while
Will Ferrell
and Danny McBride stayed close to each other's sides. Ferrell did give a wave and a shout out to USC when this Starpulse reporter yelled that we both shared the alma mater.
Though
Sienna Miller
posed for photos with
Channing Tatum
, they entered the amphitheatre separately, and without her stopping to give interviews.
Zac Efron
and
Vanessa Hudgens
walked the red carpet separately, with Hudgens stopping to pose with some young fans in the bleachers.
Paris Hilton
talked briefly about the MTV documentary of her life that will grace our screens in a few short weeks, and the second season of her "New BFF" show that will debut even sooner. Doug Reinhardt did his best to smile and nod while reporters virtually ignored him.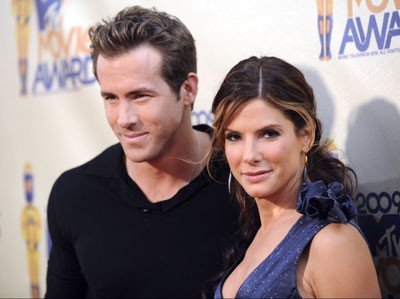 Image © AP Photo/Chris Pizzello
Jon Voight
brought a little touch of class to the afternoon;
Sandra Bullock
and
Ryan Reynolds
shook hands with fans as their publicists hurried them into the amphitheatre;
Abigail Breslin
was adorable (and age-appropriate!) as she waved to fans and reporters alike; and
Miley Cyrus
smiled at everyone, too, but was still trying to "play older" in a skintight, nude-colored, backless dress.
The stars who were most eager to chat on the warm Sunday afternoon were those of reality shows. "
Real World Brooklyn
" star Devyn Simone talked exclusively to Starpulse.com about some projects she and the dog she adopted while on her season of the reality hit have in the works. She also admitted she turned down an opportunity to be on the next "Real World/Road Rules Challenge," as did fellow castmember Scott Herman.
When asked how they felt about the "Real World Cancun" cast, Herman admitted he had a good friend on the show and that it would "provide all the drama and partying that [his] season lacked." Herman also told Starpulse that he is hoping to get into film work, and his "dream role" would be to play Captain America. "I'm having a full suit made," he said stone-faced, leaving this reporter to wonder just how far he is taking his dream. "Malan from
Project Runway
is doing it," he said.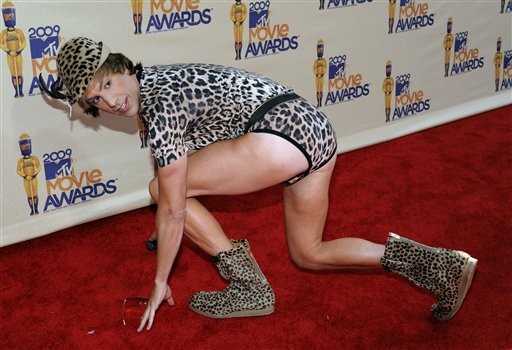 Image © AP Photo/Chris Pizzello
The stars of
The Hills
- from Stephanie Pratt to Lo Bosworth and
Audrina Patridge
- all stopped to chat about what to expect on the upcoming season.
Whitney Port
wore one of her own jacket creations and plugged her line and her website to any outlet who would listen, while
Lauren Conrad
was more interested in praising the wardrobe of those interviewing her than talking about her own work...which was oddly refreshing. Only
Brody Jenner
buzzed by in a hurry - and dragging his girlfriend Jayde behind him. An odd brush-off from the man who was so excited to be there, he was Twittering his experience in the limo just seconds prior!
Neither Derek Mears (
Friday the 13th
) nor
Johnathon Schaech
(
Prom Night
) held out much hope for taking home the "Best Villain" statue. When talking to Starpulse, Schaech could only shrug and admit that it was the first award he was ever nominated for, and he was "just happy to be a part of the event." Both men agreed the part rightly belonged to
Heath Ledger
, who was nominated posthumously for
The Dark Knight
.
CLICK HERE FOR TONS OF PHOTOS FROM THE 2009 MTV MOVIE AWARDS!
CLICK HERE TO SEE THE LIST OF WINNERS!
CLICK HERE TO WATCH BRUNO LAND ON EMINEM'S LAP!
Story by
Danielle Turchiano
Starpulse contributing writer