MTV Launches 'What The Flip'; Win A Flip Camcorder!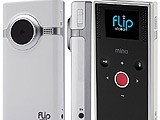 MTV recently launched an experiment called "What the Flip," where they gave 100 Flip camcorders to 100 college students around the country and told them to get inspired and surprise us. Different themes guided them, some were open-ended, others were scavenger hunts and others were questions only they could answer. See for yourself, all their footage can be found here:
WHATtheFLIP.mtv.com
Centered on one specific theme, each episode of
What the Flip
takes footage from college students from around the country and mashes it up into a 1 minute online MTV show that can be viewed here.
And each
What the Flip
episode is brought to life through the power of music by some great emerging indie artists that can be checked out here.
Highlights of the footage were compiled into 8 unique episodes, including Episode 2: Awake, Alive, Surprises. Episode 2 exclusively features
Matt Nathanson
in its soundtrack.
-
Win A Flip Camcorder here!
What The Flip?