'Mrs. Doubtfire' Behind-The-Seams Special Edition Released

Mrs. Doubtfire
is in the house! Everyone's favorite gender-bending nanny is back for more heartwarming hilarity as Fox Home Entertainment pulled off the wig and let out the seams to unveil even more fun with the all-new
Mrs. Doubtfire Behind-The-Seams Special Edition
two-disc DVD release.
Starring the unparalleled
Robin Williams
in his hysterical cross-dressing, Golden Globe®-winning performance as the lovable British nanny, Mrs. Doubtfire became an instant blockbuster grossing over $440 million worldwide.
Directed by
Chris Columbus
(
Harry Potter and the Sorcerer's Stone
,
Home Alone
) and co-starring
Sally Field
("
Brothers & Sisters
,"
Forrest Gump
) and
Pierce Brosnan
(
The Matador
,
After The Sunset
),
Mrs. Doubtfire
garnered multiple honors including an American Comedy Award® (Funniest Actor in Motion Picture), MTV Movie Award® (Best Comedic Performance), People's Choice Award® (Favorite Comedy Motion Picture) and an Academy Award® (Best Makeup).
The
Mrs. Doubtfire Behind-The-Seams Special Edition
DVD has plenty of surprises hidden under its skirt highlighted by hours of never-before-seen material including all-new on-camera interviews with funnyman Robin Williams; outrageous deleted scenes; numerous "on-the-set" featurettes chronicling the production process from casting to costumes and make-up tests; alternate takes showcasing Williams' remarkable improvisation talents; a conversation with legendary animator Chuck Jones who designed the film's credit sequences; an original 1993 featurette about the making of the film; trailers, TV spots and much more. As an added bonus for mom's, the
Mrs. Doubtfire Behind-The-Seams Special Edition
DVD will also include a Movie Money coupon good for one free admission (up to $7.50) to
Horton Hears A Who
- debuting in theaters on March 14, 2008.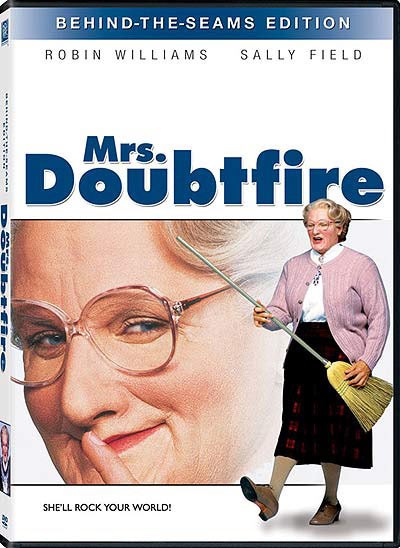 Daniel Hillard (Williams) is no ordinary father, so when he learns his ex-wife (Field) needs a housekeeper, he applies for the job. With the perfect wig, a little makeup and a dress for all occasions, he becomes Mrs. Doubtfire, a devoted British nanny who is hired on the spot. Free to be the "woman" he never knew he could be, the disguised Daniel creates a whole new life with his entire family.
DVD Features:
The two-disc
Mrs. Doubtfire Behind-The-Seams Special Edition
DVD is offered in widescreen (2.35:1) and in English 5.1 Dolby Surround, as well as Spanish and French Dolby Surround, with English and Spanish subtitles. Additional bonus features include:
Cutting Room
- Deleted And Extended Scenes
- Alternate Scenes
Production Office
- "From Man to Mrs.: The Evolution of Mrs. Doubtfire" featurette
- "Aging Gracefully: A Look Back at Mrs. Doubtfire" featurette
- Exclusive Behind-the-Scenes Still Photo Gallery
Animation Studio
- "A Conversation with Legendary Animator Chuck Jones" featurette
- Original Pencil Test
- Final Animation Sequence With Alternate Backgrounds
Make-Up Department
- Makeup Application with key make-up artist Ve Neill
- Makeup Photo Gallery
- Five Makeup Tests
Stage A (Improv)
- "The Improvisation of Mrs. Doubtfire" - Seven Scenes
Publicity
- Original Featurette (1993)
- "Meet Mrs. Doubtfire" - Robin Williams Interview
- Theatrical Trailers
- TV Spots
- Theatrical Posters Photo Gallery
About Fox Home Entertainment: A recognized global industry leader, Twentieth Century Fox Home Entertainment LLC (TCFHE) is the worldwide marketing, sales and distribution company for all Fox film and television programming on VHS, DVD and Blu-ray Disc (BD) as well as acquisitions and original productions. The company also releases all products around the globe for MGM Home Entertainment. Each year TCFHE introduces hundreds of new and newly enhanced products, which it services to retail outlets -- from mass merchants and warehouse clubs to specialty stores and e-commerce - throughout the world. Twentieth Century Fox Home Entertainment LLC is a subsidiary of Twentieth Century Fox Film Corporation, a News Corporation company.