'Mr. Magorium's Wonder Emporium,' Where Toys Come To Life, On DVD Today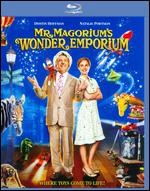 Enter a world of enchantment when
Mr. Magorium's Wonder Emporium
opens its doors on DVD and Blu-ray Disc (BD) March 4, 2008 from Fox Home Entertainment. Written and directed by Zach Helm (
Stranger Than Fiction
), the fantastical tale features an all-star cast including Academy Award®-winner
Dustin Hoffman
(
Meet The Fockers
) and Golden Globe®-winners
Natalie Portman
(
Closer
) and
Jason Bateman
("
Arrested Development
") in an engaging and unusual story about the strangest, yet most wonderful toy store.
For centuries the eccentric 243-year-old Edward Magorium (Hoffman) has owned and operated the most amazing store in the world - a tantalizing toy haven in which everything inside literally comes to life. But when the boss decides to retire, the shop throws a tantrum and all its wonders begin to cease. Now his reluctant manager (Portman), skeptical accountant (Bateman) and most loyal customer (Zach Mills) must work together to save the emporium . . . by finding a little magic within themselves.
The Mr. Magorium's Wonder Emporium DVD includes multiple featurettes - including Strangely Weird And Weirdly Strange: The Magical World Of A Wonder Emporium and A Magical Toy Store among others - giving audiences a look behind the scenes at the making of the film and access to never-before-seen interviews with the cast and crew. Honored with the Family Approved Seal by The Dove Foundation and winner of the Heartland Truly Moving Picture Award, Mr. Magorium's Wonder Emporium is now available on DVD and Blu-ray Disc.
Special Features:
-The "Mr. Magorium's Wonder Emporium" DVD is presented in both widescreen and full screen versions with English 5.1 Dolby Digital, as well as Spanish 5.1/French 5.1 Dolby Surround with Spanish, line 21 and SDH subtitles.
-Strangely Weird and Weirdly Strange: The Magical World Of A Wonder Emporium Featurette
- Zach Helm Pod
- Sock Monkey Pod
- Mortimer The Zebra Pod
- Lincoln Man Pod
- An Eccentric Boss And An Awkward Apprentice Featurette
- To Meet Eric Applebaum, Start By Saying Hi Featurette
- The Magical Toy Store Featurette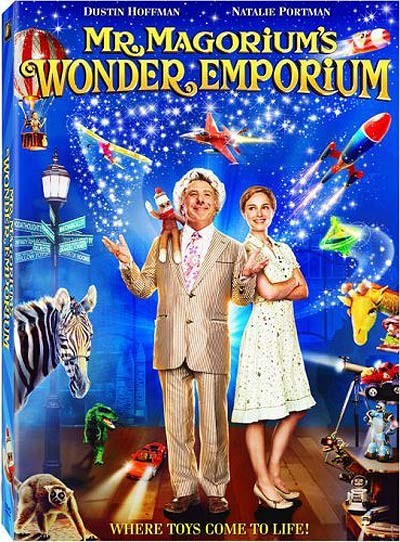 Blu-Ray Disc Specs: Mr. Magorium's Wonder Emporium BD will be authored in BD-Java with AVC (MPEG 4 compression) on a dual-layer 50 GB disc with English 5.1 DTS HD Lossless Master Audio plus English, French and Spanish 5.1 Dolby Digital sound. The disc will feature all of the above special features in high-definition.
About Walden Media: Fox Walden Films specializes in entertainment for movie audiences of all ages. Maintaining its own creative and marketing operations, Fox Walden films is distributed domestically by Twentieth Century Fox.
About Fox Home Entertainment:A recognized global industry leader, Twentieth Century Fox Home Entertainment LLC (TCFHE) is the worldwide marketing, sales and distribution company for all Fox film and television programming on VHS, DVD and Blu-ray Disc (BD) as well as acquisitions and original productions. The company also releases all products around the globe for MGM Home Entertainment. Each year TCFHE introduces hundreds of new and newly enhanced products, which it services to retail outlets - from mass merchants and warehouse clubs to specialty stores and e-commerce - throughout the world. Twentieth Century Fox Home Entertainment LLC is a subsidiary of Twentieth Century Fox Film Corporation, a News Corporation company.