'Mr. And Mrs. Smith' Producer's Book Claims Brad Pitt Cheated On Jennifer Aniston With Angelina Jolie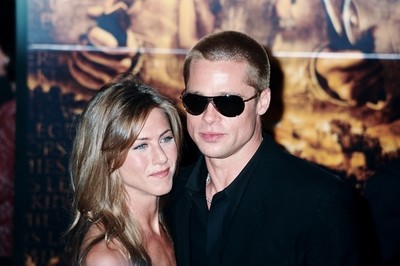 Arnon Milchan, producer of Mr. and Mrs. Smith, claims in his book Confidential: The Life of Secret Agent Turned Hollywood Tycoon that Jennifer Aniston kicked Brad Pitt out when he confessed his love for Angelina Jolie.
The movie was in turnaround after Pitt said he could not see the chemistry with original Mrs. Smith, Nicole Kidman. However, as soon as Angelina was offered the spot, Brad called immediately to hop back onto the production.
The book reads, "At first, Jen didn't believe he was involved with Angelina. She started asking around but no one would tell her anything because they were loyal to Brad, so she asked him point blank. He denied it.
"He eventually admitted he was in love with Angelina. Jen was furious and threw him out."
"Brad drove each day to the set, and everywhere else, on a motorcycle and he wore a wraparound helmet with a tinted visor so no one would recognize him. He stayed with me for the duration of filming," wrote Milchan.
Jennifer Aniston and Brad Pitt divorced with 2005.