Movies To Watch In Early 2010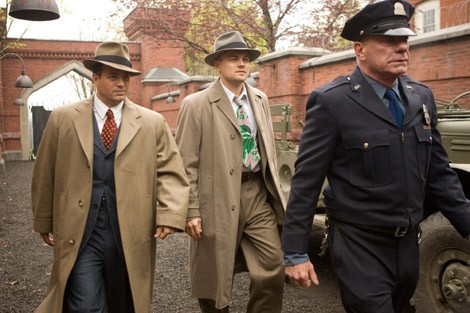 2009 is starting to wrap up with a few big blockbusters left for the Christmas season, but now it is time to look forward into 2010 to see what's coming up. The early months of a year may usually be quiet for movie goers, but there are some great new films releasing in January, February, and March. Take a look at the films you'll be wanting to buy tickets for in early 2010!
January
(in order of release date)
"
Daybreakers
," rated R, is being released January 8th and stars
Ethan Hawke
,
Willem Dafoe
, and Sam Neill. This movie is taking advantage of the current vampire popularity, but this is a more twisted tale and dangerous look on the bloodsuckers. It's 2019 and the world is mostly populated by vampires. They are concerned that the humans are dying out and soon their food will no longer be readily available, so the vampires start creating 'human farms' to keep them alive and docile. The humans are fighting to keep their independence and find a way to strike back, while there may just be a possible vampire 'cure' lurking around. It looks interesting, creepy, and dark. Expect plenty of violence and blood in this one!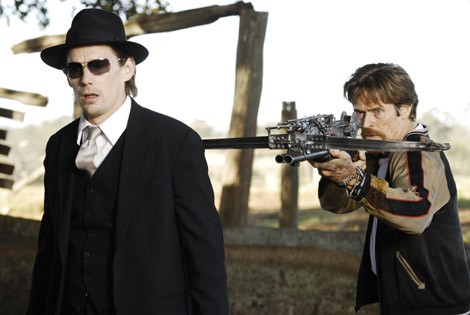 Image © Lions Gate Entertainment
"
Leap Year
," rated PG, is being released January 8th and stars Amy Adams and Matthew Goode. This appears to be a sweet romantic comedy about a girl who chases her boyfriend to Ireland to propose to him. She ends up in Cardiff instead and must ask an innkeeper (Goode) to help her get her man. But does she fall for the snide Declan along the way? Of course she does, this is a romantic comedy! We don't go for the mystery, we go for the gooey warm feeling at the end. Amy Adams is adorable and
Matthew Goode
is quite the dreamboat; if you don't recognize his name, check out "
Watchmen
" or "
Chasing Liberty
." This will be a typical romcom, but that's why people will see it.
"
The Book of Eli
," rated R, is being released January 15th and stars
Denzel Washington
,
Gary Oldman
, and
Mila Kunis
. Not too much has been revealed about this post-apocaylptic film, but it's interesting to see Washington in a straight out action flick. His character Eli protects a very important prophetic book that might have the key to mankind's survival. Everyone is trying to get it back from him, but he'll fight them all off if he has to. It has a pretty strong cast and looks scary and provoking.
"
Legion
," rated R, is being released January 22nd and stars
Paul Bettany
,
Dennis Quaid
, and Tyrese Gibson. What is up with all these apocalyptic films coming out next year? And all in the same month too! The story is that God loses faith in humanity and plans to just wipe everyone out because of it. The angel Michael (Bettany) decides to come down to Earth and protect humanity, hoping that the baby about to be born from a young waitress is the second coming of Christ that could stop the other angels from attacking. This movie has 'boycotted by the Church' all over it, but it has some pretty fantastic horror CGI shots in the trailer. The kiddies will want to be left behind for this weekend out.
"
When in Rome
," rated PG-13, is being released January 29th and stars
Kristen Bell
,
Josh Duhamel
, and
Dax Shepard
. This is another cute looking romantic comedy with a bit of a supernatural twist, since Bell's character Beth throws a coin in a fountain of love. When she leaves Rome after he sister's wedding, she's followed by several men who swear up and down that they've fallen for her. But who is in it for her, and who is in it because of the fountain? You'll just have to watch and find out. Another good date movie here that probably won't be too serious, but pleasant enough to watch. Kristen Bell is wonderful and should be given a chance to headline something.
February
"
Dear John
" is being released February 5th and stars
Amanda Seyfried
and
Channing Tatum
. Get ready to bring some tissues because this is another movie made from a Nicholas Sparks' novel, and his stories are guaranteed tearjerkers. This is a romance about a soldier who falls for a young woman while he's on leave and then returns to the army. The two lovers start writing one another letters constantly, which makes up a great deal of the story and probably the movie too. Both Tatum and Seyfried are favored young actors in Hollywood, so they'll hopefully bring it in this film.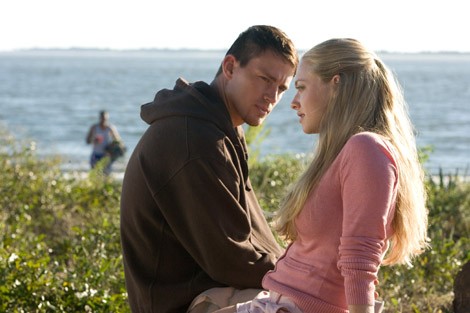 Image © Columbia Tristar Marketing Group, Inc.
"
Valentine's Day
" is being released February 12th and stars pretty much everyone famous right now. Just kidding, but it does have a huge cast, so here are just a few names:
Julia Roberts
,
Bradley Cooper
,
Ashton Kutcher
,
Jessica Alba
,
Jennifer Garner
,
Anne Hathaway
,
Jessica Biel
,
Patrick Dempsey
... do we need to go on? The story is about how many different lives and romances intertwine together on the most romantic day of the year. Expect a lot of characters, a lot of pretty actors, and a lot of 'awww' moments. It's no wonder there are romances aplenty around this date.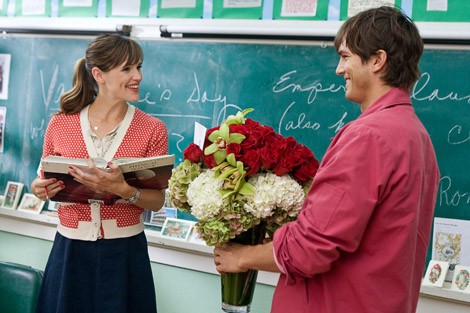 Image © Warner Bros.
"
The Wolfman
," rated R, is being released February 12th and stars
Benicio Del Toro
,
Anthony Hopkins
,
Hugo Weaving
, and
Emily Blunt
. This is a remake of the classic horror movie about a man who is cursed with the ability to turn into a wolf in the full moon. It seems that the plot is related to the original film, with Lawrence (del Toro) returning home after his brother has disappeared and trying to put together the mystery of the vicious creature lurking in the woods. Everyone can kind of figure out where this story is going for Lawrence, but who cares, we're more than happy to go along for the ride! The release date has been postponed so many times now we're skeptical it will actually come out, but if it is does, here's hoping it renews the werewolf popularity.
"
Shutter Island
," rated R, is being released February 19th and stars
Leonardo DiCaprio
,
Mark Ruffalo
,
Ben Kingsley
,
Emily Mortimer
, and
Michelle Williams
. It is also being directed by
Martin Scorsese
and is adapted from a Dennis Lehane novel, so this film has a real pedigree. Unless you've read the book this movie is shrouded in a lot of creepy mystery, and it's about two U.S. marshals who investigate a mental hospital when one of the patients goes missing. Bad weather and an inmate revolt gives them trouble, but what is really going on at the hospital? Who are the real villains? Why is Leonardo apparently hallucinating in the preview? This movie was supposed to be released in October 2009, so everyone has been waiting a long time to find out these secrets. Here's hoping "Shutter Island" is as fascinating as it seems.
March
"
Alice in Wonderland
" is being released March 5th and stars
Mia Wasikowska
,
Johnny Depp
,
Helena Bonham Carter
,
Michael Sheen
,
Alan Rickman
,
Anne Hathaway
, and many more. It is being directed by
Tim Burton
, but you could probably guess that from the film's content and who stars in it. This is not the storybook you remember, so don't go in expecting that exact story. This film takes place when Alice is actually a teenager and runs away from a rich suitor, where she follows the white rabbit into Wonderland. She doesn't remember going as a little girl and must face the Red Queen and her old friends again. This will be released in Digital 3-D and IMAX, and Burton is famous for his skills as a visual director. No doubt this movie will be bizarre and gorgeous, but if you're not a Burton fan already it might not be for you.
"
Remember Me
" is being released March 12th and stars
Robert Pattinson
,
Emilie De Ravin
,
Chris Cooper
, and
Pierce Brosnan
. Everyone will be eagerly watching to see if Pattinson is capable of playing anything other than a sparkling teen heartthrob. He plays Tyler Roth, a rebellious and troubled man in New York City who doesn't get along with his father and woos the sweet Ally (de Ravin). It is a romantic drama with family tragedy sprinkled in and should be enjoyed by anyone who likes that genre.
"
Green Zone
," rated R, is being released March 12th and stars
Matt Damon
,
Jason Isaacs
,
Amy Ryan
, and
Greg Kinnear
. It's just about the time to deal with the touchy story of the Iraq war, apparently, and this film is an action thriller that takes place in the actual Green Zone in Iraq. It is apparently before the surge from the USA, and Damon plays a soldier named Miller who goes searching for weapons of mass destruction. When he discovers faulty intelligence he goes rogue. No, this movie won't cause any hot button issues at all. Damon and the director of the "Bourne" movies is in this together, so it should be a pretty good action film.
"
Clash of the Titans
" is being released March 26th and stars
Sam Worthington
,
Gemma Arterton
,
Liam Neeson
, and
Ralph Fiennes
. Worthington is just getting around now, isn't he? First "Terminator Salvation," then "Avatar," and now "Clash of the Titans?" Is he becoming the new It Man? This is a remake of the famous 1981 film of the same name about the myth of Perseus. The war between the Gods is causing trouble for the mortals, and Perseus (Worthington) is helpless to save his family. He decides to go up against Hades (Fiennes) with a few of the best warriors at his side and slash his way through beasts and demons. The original is still epic after all these years, but it is hard not to admit that a remake with exceptional special effects could be worth it.
Story by
Chelsea Doyle
Starpulse contributing writer
Follow Chelsea on twitter at http://twitter.com/mustbethursday.