Movie Review: 'The Words' -- Three Stories, One Powerful Film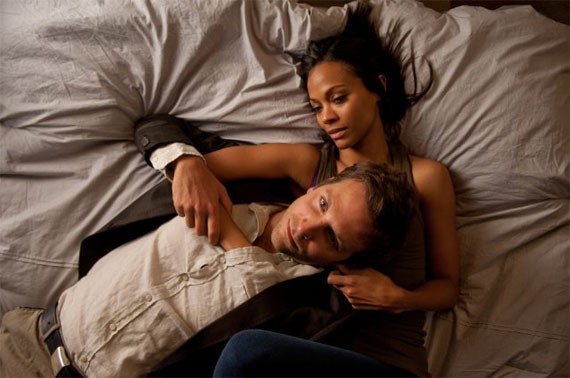 'The Words' written and directed by Brian Klugman and Lee Sternthal (co-wrote story for 'Tron-Legacy') is a movie within a movie within a movie.

Yes, it does sound confusing and convoluted, but it's really a very compelling and entertaining film. 
When 'The Words' begin, we meet celebrated novelist, Clay Hammond (Dennis Quaid). He's standing before a crowd of fans, including grad student, Daniella (Oliva Wilde) reading excerpts from his bestselling novel, entitled, 'The Word'. 

As Clay continues to read out loud, the story comes to life and we meet the characters from his book, starting with successful writer, Rory Jensen (Bradley Cooper) who is receiving a prestigious award for his debut novel.

Unlike Hammond, Jensen didn't write the book he's getting all the credit for. In flashbacks, we discover that Jensen found the manuscript in a weathered brief case that he bought, while on his Paris honeymoon with his wife Dora (Zoe Saldana).

Back in the States, Rory reads the manuscript. It's the extraordinary story of a young soldier (Ben Barnes) who falls in love with a French girl (Nora Arnezeder) in post WW11 Paris.
Rory realizes that he could never write as deeply and as powerfully as this unknown author.

After receiving rejection after rejection for his own work, Rory winds up publishing the novel under his name.

All goes well for our adored novelist until he meets an old man (the wonderful Jeremy Irons) who has a story to tell him.

In a separate flashback, we find out who this mysterious elderly man is and where he came from.

So we have three stories that intertwine and add up to a very powerful story that touches on some very interesting and thought provoking themes.

What happens when a person realizes that they will never become what they dream of becoming? What happens when someone makes a choice as a youth and has to suffer the consequences of his actions as a grown man? And finally, what happens when ambition is valued over love?

'The Words' which opens in theatres, Friday September 7, 2012 is a beautiful, touching, film about creativity and how in the end, everyone...wants to touch something truly...great. 

I thoroughly enjoyed this movie and for that reason, gave it...3 1/2 bagels out of 5.

John of course, had a very different experience. Check out our video to see his bagel rating and more of our thoughts.
Please SUBSCRIBE to our channel on YouTube and LIKE us on our Two Jews on Film Facebook page. Thanks everyone and let us know what you think.