Movie Review: 'Like Crazy' Filled With Believable Characters, Humor And Sexiness
How many of you have ever been in love? Raise your hands. Now, how many of you have been in long distance relationships?
Even if you have been in neither, 'Like Crazy' is likely to win you over. It is a love story at heart, but it is filled with believable characters, humor, sexiness, and a raw quality few romances portray on film. If you are expecting a Kate Hudson romantic comedy, buh-bye.
The story is simple. Anna, a young British woman, falls for Jacob, an American, while studying in L.A. They go out after she leaves a witty letter on his windshield, clumsily describing her admiration for him and insisting she's not a nutcase.
The scenes of their first date are filled with witty banter, awkward silences, unsure glances and bedroom eyes. By the end, when they press their hands together on opposite sides of her apartment complex's glass door, it's clear these two have a thing for each other.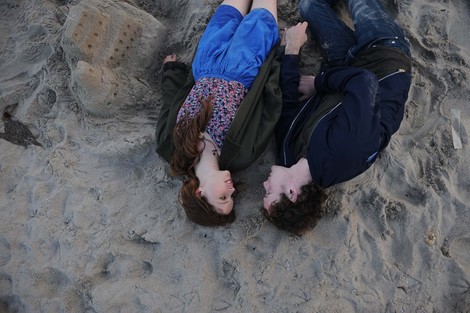 In no time at all they are clearly in love, but there's a problem. She has to go back to Britain for a while because of her student visa. Awww, screw it, she says as they lie in bed together. Jacob is not ready to argue.
After a wonderful summer together, Anna heads back to the U.K., but upon her return to America, she is flagged for violating her visa. Jacob, meanwhile, is waiting at the airport, flowers in hand, ever-patient as she describes her plight over the phone. It's easy to feel for both of them.
What follows is a back and forth "what can we do?" phase – a long one. Over a period of years, they eagerly await text messages from each other, even as they casually move into relationships with other people. Visits re-ignite their passion, but time away from each other infuriates their souls. Is it better to long for a distant love, or let it go?
The actors, Anton Yelchin and Felicity Jones, are incredibly skilled at going through the motions of puppy love, distant discord and full-out passion. Their performances are funny, heartfelt and raw.  When you watch this film, you may feel like you're eavesdropping rather than watching a movie. And I mean that in the best possible sense.
As Anna's parents, Alex Kingston and Oliver Muirhead bring comic relief and class to scenes that would otherwise be painful. The young director and screenwriter, Drake Doremus, has few films under his belt, but judging by this movie, he's got oodles of life experience. He is one to watch.
When you walk out of a movie, it's good to be asking, "Where did this leave me?" Whether you feel satisfied by the ending of 'Like Crazy' or not, there's little doubt you will feel curious, uneasy and respectful of how the love story is handled. It's not easy to please both hopeless romantics and skeptics.