Movie Premieres Cancelled, TV Shows Pulled Due To Connecticut School Massacre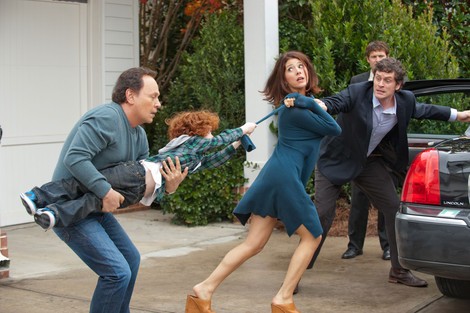 Hours before the red carpet event on Saturday, Fox movie executives decided to cancel the Los Angeles premiere of Billy Crystal and Bette Midler's new comedy "Parental Guidance" out of respect for the victims of the Newtown, CT, elementary school shooting that resulted in 26 deaths on Friday morning.
Fox issued the following statement: "In light of the horrific tragedy in Newtown, Connecticut we are canceling the red carpet press event and the after party for the Parental Guidance premiere, scheduled today in downtown Los Angeles. The hearts of all involved with this film go out to the victims, their families, their community, and our entire nation in mourning."
On Friday night Paramount Pictures axed the Pittsburgh, PA, premiere of "Jack Reacher" starring Tom Cruise.
In addition, new episodes of "Family Guy" and "American Dad," which were both due to air on Sunday night, were pulled due to possibly sensitive material in light of the Sandy Hook Elementary School massacre.
Syfy channel executives decided not to air a planned Friday episode of supernatural drama "Haven" due to its violent content.
However, Showtime executives decided to air the season final of "Homeland" on Sunday night. It featured a bombing at CIA headquarters, which killed over 200 characters. The network did air a disclaimer before the episode aired, saying it featured sensitive material in the wake of the Sandy Hook tragedy.