Move Over NBC, USA Is Stealing Your Glory

In the world of television, the big networks - NBC, CBS, ABC, and FOX - are typically considered to be the "A" team, or the major leaguers of TV stations. Now they have a bit of competition.
The network we are most confused by is NBC. NBC used to be a ratings powerhouse with its "Must See TV" marketing campaigns. Weeknights were appointment television nights for millions of viewers tuning in first in the genesis of it all, the 1980s with
Hill Street Blues
,
The Cosby Show
,
Cheers
, and
LA Law
. The 1990s came in strong with
ER
,
Friends
,
Frasier
,
Mad About You
,
Seinfeld
, and the last of true "Must See TV," Will & Grace. These shows were the biggest and most talked about around the cooler at work on Friday mornings.
While NBC currently has substantial shows, like the
Law and Order
universe,
The Office
, and the critically acclaimed
30 Rock
, it has lost its once golden grip on lead ratings. NBC Universal programming includes NBC, USA, and the recently renamed, SyFy. NBC is considered to be the gleaming flagship with USA Network coming in as the "B" team and SyFy acting as the awkward nerdy little brother.
Royal Pains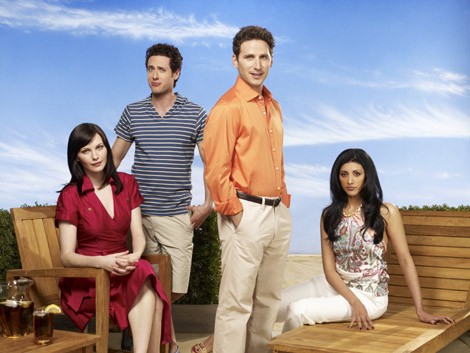 Image © NBC Universal, Inc
USA Network seems to have a much stronger lineup than its big brother, and this has us scratching our heads. USA's original programming holds some of the highest ratings in basic cable prime networks. In 2008 it gained the highest ratings ever in the basic cable network group - even besting the broadcast network, The CW, in certain age brackets of primetime programming. The programming is what speaks the loudest. USA's original series includes:
Royal Pains
,
Burn Notice
,
In Plain Sight
,
Psych
,
Monk
,
The Starter Wife
, and has recently been given
Law & Order: Criminal Intent
.
Even USA's acquired programming is handpicked from the best and highly rated broadcast shows including:
Law & Order: SVU
,
NCIS
, and
House
. So why haven't any of the original series been pulled from USA and placed on NBC for higher ratings and larger advertising, helping NBC back up to the top place it once held for primetime fictional television? They had no problems handing "L&O: CI" over to USA once it was pulling below average ratings, so why not try the reverse?
Burn Notice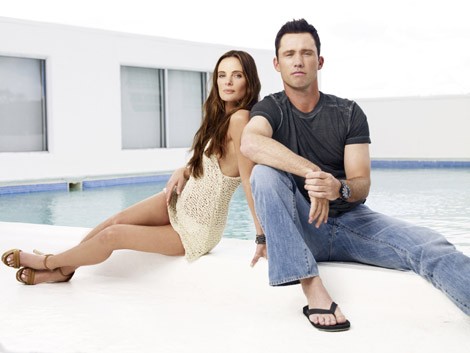 Image © NBC Universal, Inc
It isn't like other networks haven't looked at USA's programming and plagiarized their own versions. CBS greenlit
The Mentalist
, a blatant copy of USA's popular show, "Psych," and merely changed the genre from comedy to drama. In return, "The Mentalist" became a huge success for CBS, holding an average of around 17 million viewers per aired episode. It would be the most logical step to move "Psych" to NBC to challenge "The Mentalist" and also act as a refreshing change from the drone of traditional police procedurals.
That being said, all of USA's crime centered programming is blissfully original in format and in their generic hybridity. "Burn Notice," "In Plain Sight," and "Monk" join "Psych" in rounding out the crime narratives on USA. "Monk," more specifically
Tony Shalhoub
, has collected multiple Emmy Awards as well as a solid and diverse fan base in its now eight-year run. "Burn Notice's" third season premiered with its highest ratings yet, bringing in 6 million viewers and even, according to "Broadcasting and Cable," beat a Thursday CBS rerun of
CSI
as well as the series premiere episode of NBC's new summer show,
The Listener
. These ratings do not even take into account people who purchase episodes on iTunes or Amazon.com or who watch the episodes on Hulu or the USA website.
USA is continuing its talent of knocking fictional shows out of the park. This summer their newest show, "Royal Pains," premiered to extremely high cable ratings, earning 5.6 million viewers for the series premiere episode, which even beat the series premiere episodes of "In Plain Sight" and "Burn Notice."
Story by
Sarah Lafferty
Starpulse contributing writer
Follow Sarah on twitter at
starbuckscout
.