Motorhead's Lemmy Launches His Own Wine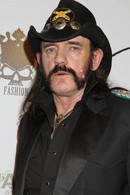 Motorhead rocker Lemmy has become the latest star to turn his attentions to wine-making - he's launched his own Shiraz.

The heavy metal musician piloted the beverage in Sweden last year, selling 120,000 bottles of the alcohol - and now he's set to sell it in the U.K.

Lemmy says the wine has been "hitting Scandinavia like a Lancaster bomber," but warns his fans: "Approach it with caution. I mean, wine is deceptive, anything could happen."

Ewen Cameron, from Great Wine Online, which will be selling the Shiraz in Britain, adds, "Just like Lemmy, it can survive just about anything."

Lemmy joins a list of stars who have created their own wine label, including Cliff Richard and rockers AC/DC.