Motorhead Outraged Over Expensive Box Set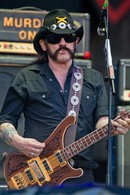 Rockers Motorhead have warned fans against buying a $600 box set, insisting they are not behind the costly compilation.

The 15-disc collection, housed in a fake skull with red light-up eyes, features eight early albums, as well as singles, posters and a photo book.

The group's loyal fans took to internet forums to bemoan the high price, but Motorhead are adamant they do not endorse the release, put out by a company which owns the rights to the band's early recordings.

A statement from the band reads, "Motorhead have no control over what's done with these early songs, and don't want fans to think that the band is involved in putting out such a costly box set."

Bassist Lemmy adds, "Unfortunately greed once again rears its yapping head. I would advise against it even for the most rabid completists!"