Motley Crue Rocker Nikki Sixx Slips And Falls Onstage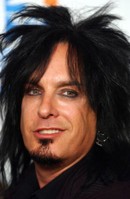 Motley Crue rocker Nikki Sixx was left red-faced on Thursday after falling on his backside during a concert in England.

The band took the stage at Nottingham's Capital FM Arena as part of its U.K. tour, but fans were left gasping when Sixx tripped up four songs into the group's set as he strutted across the stage while performing "Shout at the Devil."

However, Sixx has brushed off the mishap, insisting the show was still thoroughly enjoyable.

Taking to Twitter.com after the show, he wrote, "Slipped and fell onstage.Fun... Rock n roll.Nottingham.Loud. motley crue."