Motley Crue Confirm Las Vegas Residency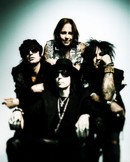 Motley Crue have confirmed reports they will become the first heavy rock band to take on a Las Vegas residency when they play a three-week run in Sin City next year.

Rockers Nikki Sixx, Vince Neil, Tommy Lee and Mick Mars will appear live at the city's Hard Rock Hotel and Casino for a stint kicking off on February 3rd.

They confirmed the news during a TV interview with CNN newsman Piers Morgan on Thursday night.

Frontman Neil tells the host, "We're the first rock band to ever have a residency. There's been bands like, you know, Santana, Elton John, all these kind of acts. But for us, because... we're all about theatre and about over-the-top stage shows... it's a perfect fit for us. We're really, really excited."

Taking to Twitter.com after the announcement, Sixx adds, "The Crue holding court in Las Vegas at the Hard Rock for three weeks. We're gonna take over the top, over top. Who's coming? News is coming back fast. This is gonna sell out... Crue and Crueheads in Sin City together..Yeah..."