'Mother Of Hip-Hop' Sylvia Robinson Dies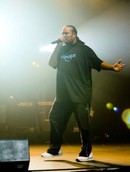 Fifties hitmaker-turned-pioneering rap producer & Sugar Hill Records founder Sylvia Robinson has died at the age of 75.

She passed away on Thursday after suffering from congestive heart failure.

Robinson began her career in music as a blues singer in the 1950s and enjoyed chart success with songs such as "Pillow Talk" and "Chocolate Candy Blues." She went on to form one half of the duo Mickey & Sylvia, who shot to fame with their 1957 hit "Love is Strange," which was featured in the movie Dirty Dancing.

She later founded Sugar Hill Records with her late husband, Joe, and they scored a chart smash in 1979 with the Sugarhill Gang's single "Rapper's Delight," which is widely considered the first breakout pure rap hit.

She also produced another classic, Grandmaster Flash & the Furious Five's "The Message," and became known as the Mother of Hip-Hop.