Morrissey Slams President Barack Obama Over Thanksgiving Turkey Pardon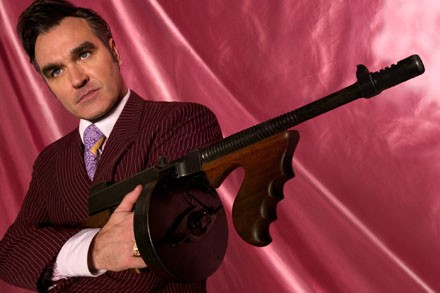 Morrissey has branded President Barack Obama "abysmal" for supporting the slaughter of 45 million turkeys for the nation's Thanksgiving celebrations.

The animal rights crusader has hit out at the American leader's administration ahead of the annual festivities on Thursday, slamming White House staff as "embarrassingly stupid" for holding a 'turkey pardon' when one bird is spared death on the President's orders.

In a statement, the former The Smiths star writes, "Please ignore the abysmal example set by President Obama who, in the name of Thanksgiving, supports torture as 45 million birds are horrifically abused; dragged through electrified stun baths, and then have their throats slit. And President Obama laughs. Haha, so funny!...

"Further, the meat industry is responsible for 51 per cent of human-caused greenhouse-gas emission, therefore the embarrassingly stupid White House 'turkey pardon' is open support for a viciously cruel and environmentally irresponsible industry."

In other Morrissey news, the singer has proclaimed he is not gay despite having same-sex relationships, writing on his website, "I am not homosexual. In technical fact, I am humasexual. I am attracted to humans."