Morrissey Named PETA's Brit Of The Year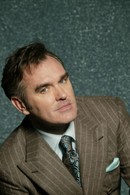 British rocker Morrissey has been honored for his commitment to animal rights by People for the Ethical Treatment of Animals (PETA).

The musician has been named the organization's U.K. Person of the Year, taking over from 2010 winner Pamela Anderson.

Morrissey is a staunch vegetarian and has banned meat at his shows, while he even screened PETA campaign messages during his gigs this year, and the group has now commended the star for his dedication to the cause.

PETA spokeswoman Yvonne Taylor says, "Morrissey shows us the benefit of boldness - when he opens his mouth, people pay attention. Moz is a rebel with a very real cause - encouraging everyone to re-examine their attitudes towards animals and the industries that abuse them."