Morrissey Blames Opener Kristeen Young For U.S. Tour Cancellation, Young Responds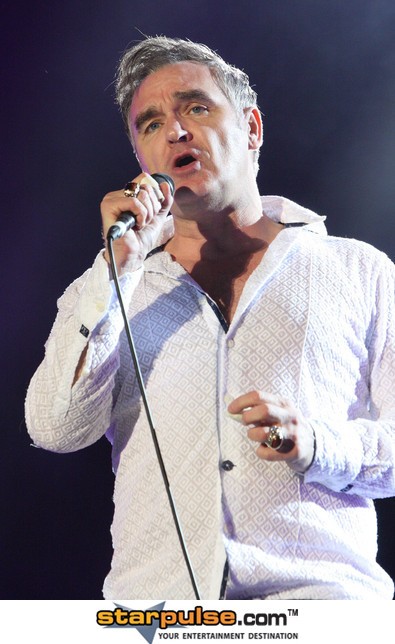 Morrissey has cancelled the rest of his United States tour due to a respiratory infection, but a he said/she said argument has broken out after his reps blamed his opening act for infecting him.
A statement was released via Morrissey's Facebook page announcing the cancellation. It reads, "It is with great sadness that the remainder of the US Tour has been cancelled. The respiratory infection Morrissey contracted in Miami has worsened, and in the interest of making a full recovery, all further touring plans have been halted. Morrissey thanks his fans for their compassion, understanding, and well-wishes during this difficult period as he recuperates."
The debate began soon after when Morrissey's official website released another statement blaming the singer's opening act, Kristeen Young, for getting him sick. It reads in part, "Difficulties had arisen on May 31st following Kristeen Young's opening set at the Miami Knight Concert Hall, after which Kristeen confessed to 'a horrendous cold', the symptoms of which were passed on to Morrissey resulting in the cancellation of the next show in Atlanta. For the good of all, Kristeen was asked to step down from the immediate upcoming shows, but instead she decided to leave the tour entirely."
Kristeen Young responded to the allegations on her Facebook page, writing in part, "On Monday, June 2nd, I had an allergy attack that was over within 16 hours. I went to a doctor (on Monday, June 2nd), an allergy specialist, who gave me drugs for allergies...and they worked. I explained this (early on Tuesday, June 3rd) and offered this doctor's phone number to Morrissey personally, via email, and the tour manager, Donnie Knutson (for proof....since they seemed to doubt me). But, they NEVER followed up with me or said doctor. Also....it is incorrect that I 'decided to leave the tour completely'. I was asked to leave." The post has since been deleted.
It sounds like a falling out between a pair of musicians who have spent years together. Arguably, Young's breakthrough occurred when she was plucked to open for Morrissey in 2006 and stayed in the slot for over a year. She was booted from the tour for making a comment about Morrissey and oral sex when a crowd heckled her and demanded she left the stage. However, in 2011, she was once more hired to open for Morrissey on a permanent basis.
Whether we're on the cusp of another fall-out between the two or this is all a big misunderstanding has yet to be seen.