Morgan Spurlock To Shave Off Moustache For 'Movember'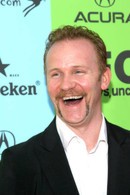 Filmmaker Morgan Spurlock has pledged to shave off his famous moustache at the end of November to help raise $5,000 for men's health issues.

As part of the 'Movember' movement, the Super Size Me star plans to join thousands of men who have started growing facial hair from scratch in a bid to grow moustaches and raise awareness about health matters like prostate cancer.

However, because Spurlock is currently in the middle of a new film project, which requires him to keep his facial hair, he has set up an online fundraising team for fans who want to contribute to the cause and ultimately see Spurlock in a different light.

He says, "I was so moved by what Movember represented and what these guys have developed in order to raise money and awareness about men's health issues, I wanted to figure out a way to get involved."
"Since I am filming and could not shave my Mo on November 1st, we created the Reverse Movember. I am hoping that we can encourage friends and colleagues to register and pledge their support to Movember, and raise more funds and awareness this year."