Morgan Spurlock Makes Comic-Con Documentary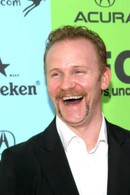 Award-winning director Morgan Spurlock has bottled up the essence of Comic-Con for an upcoming documentary on the world-famous pop culture event.

The Super Size Me filmmaker followed seven die-hard fantasy fans as they wandered through the San Diego, California convention last year and chronicled their experiences in the movie, and accompanying book, Comic-Con Episode IV: A Fan's Hope.

He tells Entertainment Weekly, "The idea of it was we were going to find different people who represented Comic-Con - an artist, a writer, a comic-book shop owner, a collector, someone who is competing in the masquerade."

"The film does show the fantastic spectacle of geekdom that goes on there, but I think it also shatters a lot of stereotypes. When you read through the book and see some of the quotes from people, you realize there are some eloquent people there. There are thought-provoking things happening."

"It's not just people walking around in... costumes."

Spurlock's film is set to hit U.S. theatres this autumn. The director will be a force at this year's Comic-Con extravaganza, which began on Thursday morning.