Morgan Freeman Sets Sights On Best Picture Oscar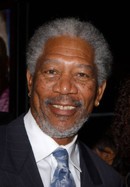 Hollywood veteran Morgan Freeman has set his sights on becoming an Oscar-winning filmmaker - he wants to win the prestigious Best Picture award before he dies.

The Invictus star has been nominated five times for his acting credentials and he landed the 2005 Academy Award for Best Supporting Actor for Million Dollar Baby.

But Freeman admits he really wants to be honored for his moviemaking skills, and it's now at the top of his 'bucket list.'

Speaking on Live With Regis and Kelly on Tuesday, he says, "I think you're near dead when you don't have a bucket list, so I have two or three lists...

"I have a film company, Revelations Entertainment. High on my bucket list is getting an award for Best Picture."

Freeman founded the production company in 1996.