'Moon' Brings Philosophical Questions To Movie-Watchers

Amid the summer movie madness - heavy on special effects and light on storytelling -
Moon
is ready to offer audience members a healthy dose of reality. But there's one catch: Moon is a science-fiction flick, which makes that previous statement a bit of an oxymoron.
Director Duncan Jones, son of music icon
David Bowie
and self-described sci-fi geek, set out to create a sort of throwback to earlier sci-fi films like
Blade Runner
and
Outlander
, which didn't revolve around mystifying movie-goers with scene after scene of gaudy special effects.
"There are unquestionably less of those kind of sci-fi films these days. I don't know why," Jones says in a director's statement that was provided at the press screening. "I have a theory though: I think over the last couple of decades filmmakers have allowed themselves to become a bit embarrassed by sci-fi's philosophical side."
This philosophical side certainly doesn't embarrass Jones, and Moon takes on the idea of space colonization and addresses some of the issues that will arise.
Sam Rockwell
(
Frost-Nixon
,
Choke
) plays Sam Bell, who is close to completing a three-year contract as the lone caretaker of the "Sarang" space station on the far side of the moon. The job is that much more difficult and isolated because Bell's communication satellite is broken, and he can only send and receive recorded messages. His lone companion is "Gerty" (voiced by
Kevin Spacey
), the space station's talking computer.
Sam slowly starts to go crazy in the early part of the movie, and he gets injured after seeing a hallucination that causes him to crash a lunar rover. When he gets back to the base, he encounters a younger version of himself and can't figure out what's going on.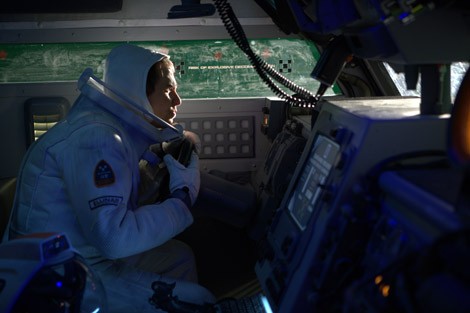 At some point, the situation's harsh reality becomes apparent to Sam and he needs to find a way to get off the space station.
Moon is a character study of an isolated man, and it also touches on what space colonization will mean to big business. Is space immune to the corruption of our capitalist society? Will companies ignore the human factor when it comes to maximizing profit?
While Moon can be a little slow at times, it definitely delivers what Jones set out to do: make the audience think. If you're looking for an uplifting story with a lot of visual appeal, this isn't the movie for you.
Moon actually brings up a philosophical question of its own to movie-watchers: What do you go to the movies for? Your answer to that question will determine whether or not Moon will be enjoyable. I thought Jones maximized the movie's potential on such a small budget, and Sam Rockwell deserves a lot of praise for his performance(s).
Unfortunately, I can't recommend spending $12 on a ticket; there's nothing compelling about Moon, and you wouldn't miss out on anything if you rent it or catch it on a movie channel when the time comes. I will, however, keep my eye out for Duncan Jones in the future.
Story by
Phil McRae
Starpulse contributing writer