Montel Williams Signs On As Consultant For Medical Marijuana Dispensary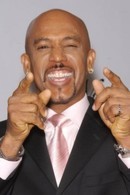 Beloved former talk show host Montel Williams has accepted a job as a consultant with a medical marijuana dispensary in California.

The TV personality is hoping his involvement will help give the state's marijuana industry a boost and encourage others to go about business in a professional manner.

At a press conference in Sacramento on Monday, Williams announced his plans to work with bosses at the Albatin Wellness Cooperative, telling reporters, "We want to provide safe access for patients... and I want this to be some place your mother and father could see themselves walk into."

Williams, who suffers from multiple sclerosis, credits marijuana with helping him cope with the pain of the condition.