'Monk' Recap: 'Mr. Monk And The Voodoo Curse'

Last week's episode of "
Monk
" was one of the best we've seen for several seasons now, which was both a surprise and a delight. The case was interesting, the facts took some time to work together, there was a high speed chase, and Natalie lost her freaking mind. Monk even hugged her willingly! It looks like a voodoo curse was put on this show, the positive kind.
"Mr. Monk and the Voodoo Curse" starts out with a little league team practicing in a park. One of the hitters, a little boy, keeps trying and failing to hit the ball. His patient coach eggs him on, and politely chats with an elderly woman who power walks by. Finally the boy hits a homer and his joy is cut short when they find out his hit killed the old woman when it landed. Aw. Things get substantially creepy when her grieving family finds a voodoo doll in her house with a baseball attached to it, indicating that the voodoo person knew how she'd die days before she did. Enter in Monk!
It's a little strange that this would interest the San Francisco police immediately, since there is no real proof of foul play and they have lots of real cases to worry about, but it's a television show. No one, not even Monk, can really figure out how the 'killer' knew that the woman would be randomly hit by a baseball, and Natalie insists that voodoo is real and they should believe in it. Everyone just laughs at her, but things become steadily more disturbing when a second death - a golfer struck by lightning - has a voodoo doll.
Natalie surprises Monk by insisting they take a vacation immediately on her dime, and then she pretends to call Stottlemeyer. Monk doesn't buy it though, and Natalie admits she is seriously terrified of this case. Especially since a third person has now been found dead with a voodoo doll. She refuses to go inside the dead man's house, he had a heart attack, and Monk is left to deal with it alone. The only remaining family is a woman named Angeline who says her uncle was ailing and he was scared of the voodoo stories. He had a heart attack as soon as he saw the package in his house held a doll.
Things get very serious for the case when Natalie is sent a voodoo doll herself. Its head is cut off. She opens up to Monk that a voodoo woman predicted her husband's death years ago, and she's blamed herself for not believing ever since. Monk is duly distracted by concern for Natalie, and they have no real leads on what is going on. As usual, Monk is slightly more upset about what will happen to him if Natalie doesn't get back to herself, but he has a few moments of genuine concern. Monk even hires a voodoo store owner, a former suspect in the case, to come and reassure Natalie that she'll be fine by lifting the curse. Instead of simply dabbing the potion on her skin, she drinks it, and they have to call an ambulance.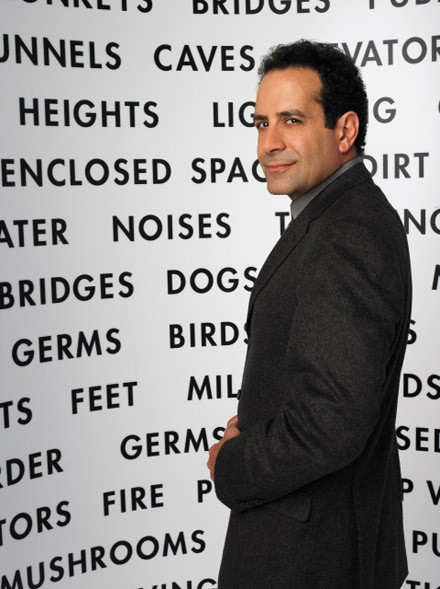 Image © NBC Universal, Inc.
This is when Monk puts it all together, because the paramedic is Angeline, the niece of the heart attack victim. He figures out that she was the paramedic for both the other deaths and intentionally set up this voodoo idea so she could kill her uncle. No one would think about her when there was a weird voodoo serial killer on the loose. She was afraid of Monk so she purposely distracted him by threatening Natalie. Monk and the voodoo storeowner chase down the ambulance and manage to save Natalie! And she promises not to believe any more in curses or voodoo ... although not before laughing at Monk for having plenty superstitions of his own!
This was a fun episode and it took quite some time for the killer to become apparent. It's great to have some mystery again, since the past few cases were either obvious or revealed early on. It's a little odd that the woman would use such an elaborate plan, but it's "Monk," who cares. Killers have to be creative with him around. It was nice to see Monk worried about Natalie, even if it was selfish at times, and Traylor Howard acted the heck out of this episode.
"Monk" is on USA Friday nights at 9 PM EST.
Monk cast:
Tony Shalhoub
/
Bitty Schram
/
Ted Levine
/
Jason Gray-Stanford
/
More
Story by
Chelsea Doyle
Starpulse contributing writer
Follow Chelsea on twitter at http://twitter.com/mustbethursday.