'Monk' Recap: Mr. Monk And The Magician

The seventh season of "
Monk
" is rounding down now with only one more episode left to go, and then the eighth will be the final season of this phenomenally charming show. Thinking about it ending is too depressing, so instead let's talk about the newest episode, 'Mr. Monk and the Magician.' A secondary character Monk has come to know and somewhat loath/love dies, and it is up to Monk to solve the case for his friend.
Kevin (Jarrad Paul) is Monk's annoying neighbor who just never shuts up, and he has appeared in several episodes of the show before this one. He is a sweet tempered man, if somewhat mouthy, and Monk tolerates his habits either out of kindness or pity. Or because Natalie makes him. The episode starts right out with the audience knowing who the murderer is and why. Steve Valentine is the guest star as a very talented magician, who is smuggling drugs in during his magic tour and making quite a profit. When Kevin runs the books and realizes there is something fishy going on, although he's innocent as to the reason, the magician sets up an elaborate way to get rid of him.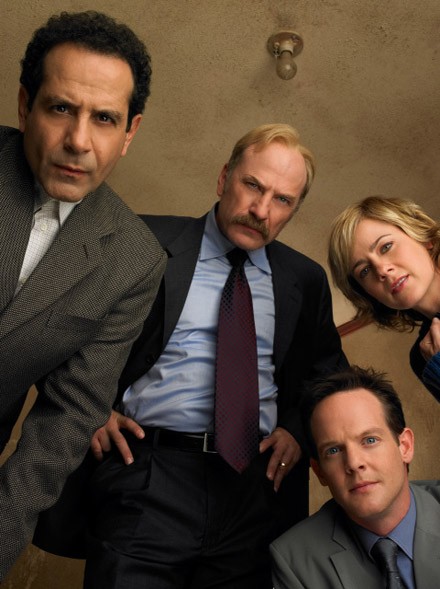 Torini the magician asks Kevin to sub for him while he takes his long term girlfriend out and proposes to her. Kevin is an awful magician, and he forces Monk and Natalie to watch his clumsy, amateur show. Before the show goes on Torini calls from Reno with his fiance and they gush about their engagement. In passing Kevin does mention to Monk that Torini's bags are heavier on the way back from his work, and then he is murdered in the dressing room. Monk sees Torini leaving, although only his back, and quickly pinpoints him as the murderer. The unfortunate thing is he has a perfect alibi: proposing to his girlfriend all the way in Reno!
Nothing will stop Monk for too long, however, and he pieces together the case. Meanwhile the viewers get to see some great magic tricks as Valentine smarms through the whole episode. The best scene is when Monk and Natalie visit him at home, and he goofily does one magic trick after the other to throw them off guard. It is easy to rewind that scene and just keep watching it for fun. Then Monk is forced into volunteering as a 'guest' for Torini, and of course this is the moment when he realizes what really happened. It is just a shame he is stuck in the magician's hands when he figures out the case, and then abruptly disappears. Natalie, Stottlemeyer and Disher must find Monk before Torini kills him for good. This was a very cute episode, and a sad farewell to a quirky side character. They don't often kill off their funny little reoccurring guests, and Kevin will be missed.
Next week is the season finale, and it looks like Monk may find some serious clues to the murder of his wife. Seven years a little too late, apparently! They plan to demolish the parking garage where Trudy was murdered, and Monk decides to intervene since he can't let go of anything. Holding on to her death location seems a little too much, but that's Monk for you. "Monk" is on USA on Friday nights at 9 PM EST!
Monk cast:
Tony Shalhoub
/
Bitty Schram
/
Ted Levine
/
Jason Gray-Stanford
/
More
Story by
Chelsea 'Dee' Doyle
Starpulse contributing writer