'Monday Mornings' Star Keong Sim Talks His Role In 'Olympus Has Fallen'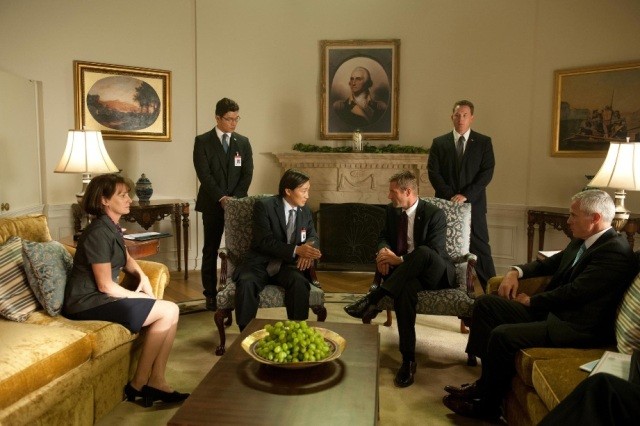 As if he's not awesome enough on TNT's Monday Mornings, Keong Sim is also part of the star-studded cast of Olympus Has Fallen, which hits theaters today. BFTV recently checked in with Keong to get the dish on his Olympus role, as well as the future of Monday Mornings.
"There were many 'oh my God' moments," the actor said of joining an ensemble that also includes Gerard Butler, Aaron Eckhart, Melissa Leo, Rick Yune, Angela Bassett, Dylan McDermott, and Morgan Freeman. "The moments were like 'Oh my God, that's Academy Award winner Melissa Leo and she's talking to me,' 'Oh my God, that's Aaron Eckhart playing the President,' 'Oh my God, that's Angela Bassett.' And then the big one was [that] Morgan Freeman showed up, and it's like 'Oh my God, he played God.'"
In the Antoine Fuqua-directed flick, Keong plays Lae Tee-Woo, the Foreign Minister of South Korea, who is in Washington to meet with President Benjamin Asher (Eckhart), only to get caught up in a terrorist situation. "I'm in the beginning of the movie, and then when the proverbial stuff hits the fan, I'm a big part of that," explained the actor (pictured above center left), whose character then tries to reason with antagonist Kang Yeonsak (played by Yune).
What Keong remembers most from the five weeks he spent shooting Olympus in Shreveport, Louisiana are the numerous opportunities he had to collaborate with the director and his fellow cast members, from the support he received from Leo while he and Eckhart crafted a scene between Tae-Woo and the President that wasn't originally included in the film, or what happened during another bit that didn't make the final cut.
"I have so many memories," he said. "There's a scene we improvised that was deleted, where Dylan's character had to physically put me out of commission for a little bit, because I said 'I can't represent my character and my country as too cowardly to stand up in some way,' and it wasn't in the script.
"Dylan said, 'Do you want me to slap you, what should we do?' I said, 'I think a slap will work. It's kind of physically incapacitating and it's also kind of insulting.' When we shot the first one, it was fine. The second take, fine, the third take, fine. On the fourth take, he accidentally fully cuffed my ear when he slapped me, which caused my eardrum to get perforated." Whoops.
Having gotten to see the final version of Olympus at Monday night's premiere, "I think it was better than I thought it would be," he continued. "The script that we had going into shooting, at least from my point of view, was not what came out in the film, with the caliber of actors like Dylan, Aaron, Gerard and Melissa, who all added their own thing to it. This is just a fun roller coaster of a movie to watch with some great acting in it."
Monday Mornings is also keeping Keong on the small screen, with three more episodes left to air in the TNT medical drama's first season. While no decision has been made on the show's fate, Keong is hopeful that he'll get to play Dr. Sung Park for a second season. "It's one of those slow-building shows," he said, adding that the ratings for the series are "going up every week."
Audiences ought to brace themselves for what's about to go down at Chelsea General Hospital, too. "Something shocking happens in the finale," he revealed. "Something happens that may correspond to a storyline in the novel. Kind of how we ended the pilot is kind of how we end the first season altogether." The season finale of Monday Mornings is scheduled to air on April 8.
Keong will also be seen in the second-season premiere of TBS's Sullivan and Son when the comedy returns later this year.
Whether he's playing a formal foreign dignitary in a huge movie or an abrupt but entertaining neurosurgon on TV's best new series, working with the likes of Morgan Freeman and Melissa Leo or Alfred Molina and Ving Rhames, Keong created memorable characters and proved that he hold his own among the strongest of ensembles. He's someone you should definitely be keeping your eye on.
Olympus Has Fallen is in theaters now; you can watch the trailer below. Monday Mornings airs Mondays at 10 PM ET/PT on TNT. You can also keep up with Keong on Twitter (@keongsim).
(c)2013 Brittany Frederick. Appears at Starpulse with permission. All rights reserved. No reproduction permitted. Visit my official website and follow me on Twitter at @tvbrittanyf.