'Monday Mornings' Recap: 'Forks Over Knives'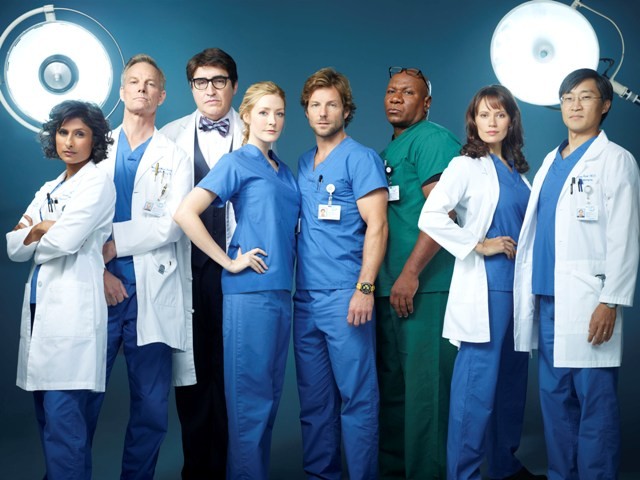 Last week's Monday Mornings was a heartbreaker. This one pokes around in the brain - those of some of our doctors, a few patients, and the audience, too.
Tina's in front of another M&M meeting, talking about a patient named Benjamin with severe Obsessive-Compulsive Disorder. She wants approval for a controversial gamma-ray procedure, which Villanueva equates to a "high-tech lobotomy," much to her ire. Wilson springs to her defense, because it's Wilson. "This kid is out of options," he says. "This is perhaps his only shot." Suddenly everyone in the room has something to say, including Park and Tierney. Tina finds herself pleading her case to the entire room, only to be stopped cold when Hooten asks how her marriage is. Cut to a similarly bewildered Wilson, further implying these two have something going on between them. Tina refuses to answer the question and walks out of the meeting, leading Hooten to reflect, "Nobody says goodbye anymore."
She storms into Hooten's office afterward to attack him, insisting that he wouldn't do such a thing to Wilson, and he tells her that "You're no Ty Wilson." He goes on to say that whatever's going on between her and her fellow neurosurgeon, whether or not it's impacting her focus, it will never rattle Wilson's, so she shouldn't delude herself. Furthermore, Hooten wants to meet Benjamin before he makes a formal decision on Tina's proposed procedure.
Later in the ER, Villanueva deals with an incoming patient whose family happens to be Christian Scientists. He calls in Sydney for advice, and she tells him their hands are tied, which is not what he wants to hear. When the teen's parents arrive, the two doctors plead their case, with Villanueva bluntly saying that he doesn't respect their position if it places an innocent life in jeopardy. "She is going to die," he insists, but her father threatens him with battery charges. Under the guise of complying with Dad's wishes to have the tubes removed from his daughter, Villanueva goes ahead with his original plan, and tells the parents that "she just got better" afterward.
Elsewhere at Chelsea General, Park meets with his former patient from the pilot, who insists that she's grateful for his help having stopped her tremors, but says she's incurred a "behavioral side effect" - increased sexual urges that she wants controlled. Park refuses, insisting that this is a good thing. To make Park's day even better, Hooten hears about this conversation and wants to discuss it, because Park's now being sued. Welcome back the hospital counsel (that's Jason Gray-Stanford, who was the most underrated performer on USA's Monk), who wants to make the lawsuit go away as quickly as possible. This is a perfect bit of casting, bringing in an actor who should be on TV a lot more than he has been. It's the first time a hospital lawyer has been an entertaining character since Peter MacNicol played Alan Birch on Chicago Hope - another David E. Kelley show.