'Modern Family's' Eric Stonestreet To Play Fatty Arbuckle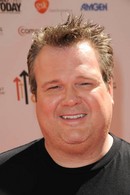 Modern Family star Eric Stonestreet is set to play Fatty Arbuckle in a new biopic.

Stonestreet, who won an Emmy Award for his role as Cameron Tucker on the popular TV comedy, has signed on to star in a small screen adaptation of David A. Yallop's book The Day The Laughter Stopped, a novel which chronicles Arbuckle's tragic demise.

Arbuckle, a legendary silent film star, was falsely accused of raping and accidentally killing fellow actress Virginia Rappe, who was found dead days after attending a California hotel party he hosted in 1921.

His films were subsequently banned and Arbuckle became a Hollywood outcast. Arbuckle was later acquitted of all charges and but the scandal all but ruined his reputation and now Stonestreet is ready to bring that dramatic scandal to life.

He tells New York Magazine, "In addition to the fact that I'm from Kansas and he's from Kansas, I just always found it to be such a fascinating and tragic story. He went from this jolly person who fell down and entertained people into a sexual deviant. It's a true story people don't know about, with a twist."

The movie is set to air on HBO.