'Modern Family' Recap: New Year's Eve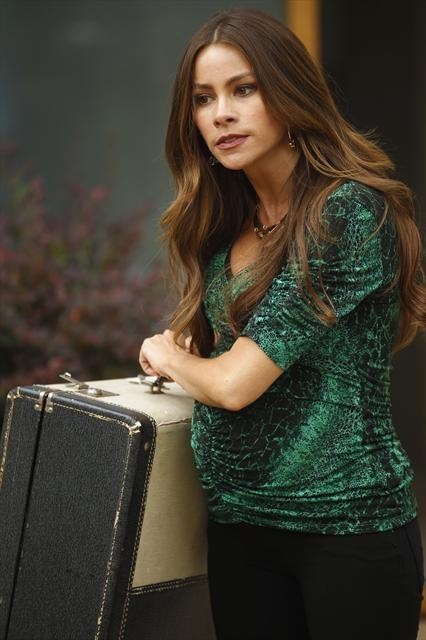 It's refreshing to see a sitcom episode centered around New Year's Eve rather than other holidays, no? The Pritchetts' New Year's trip makes for a satisfying premise in 'New Year's Eve.'
Jay decides that he'd like to treat Gloria and the kids to a getaway in Palm Springs. Unfortunately, the accommodations at the hotel Jay stayed at back in the 70s aren't quite what he remembered. (And who would picture a drinking Lainie Kazan behind the check-in counter?)
Aside from the disappointing accommodations, what drives the plot is that the couples are tired of spending time with each other as a family and would actually rather get away by themselves. Claire and Phil trek off to a hot springs where they find themselves in the midst of a skinny dipping pseudo orgy; Cam and Mitchell attempt clubbing but end up at an old-fashioned bar where they feel more comfortable; and Jay ends up at a poker game with Billy Dee Williams (and Gloria gets her sought-after grapes).
Back at home, Haley and Alex find themselves with the tables turned: While babysitting Luke and Manny (and Lily) they find themselves wondering if they're being too strict. Manny's blind date is somewhat painful but endearing (of his drink, he says, "It's cool, it's sweet and it's not afraid to express its own whimsy.")
Here are some memorable quotes, courtesy of ABC:

Alex: "Hey! You sure you don't want to play 'The Hunger Games' with all of us?"
Haley: "My whole life is a Hunger Game. Why do think I'm so mean to you?"
Billy Dee Williams (on his car): "Would you like to drive it?"
Gloria: "Does the bear sit in the woods?"
Mitchell (to Cam who can't get the attention of the bartender at a gay dance club): "He probably just doesn't notice us."
Cameron: "How can he not notice us? We're the only people in here in sleeves."
Mitchell: "How many times do we have to hear Claire tell us Luke's hilarious comeback to the pediatrician?"
Cameron: "We should start calling her 'Ranch House,' because she doesn't have a second story."