'Modern Family' Recap: 'Bringing Up Baby'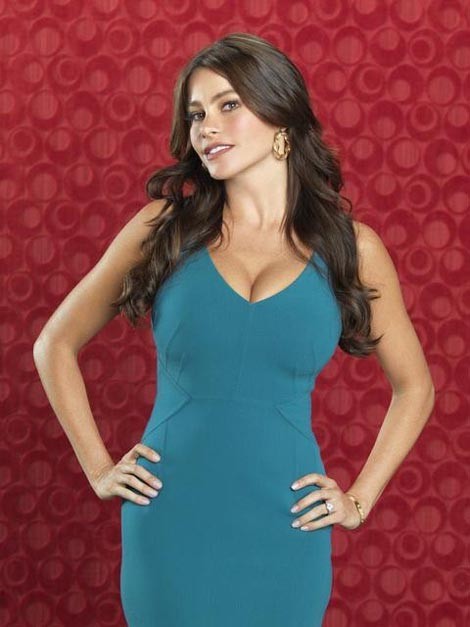 'Modern Family' is back, and baby's on board already! Okay, well, not exactly, but a fetus is. In a couple of short years, it will morph into a being that will surely say things that are golden. How could that not happen?
Fresh off its third straight Emmy win, 'Modern Family' returned this week to a pregnant Gloria afraid to tell Jay her news. It's understandable: He's celebrating his 65th birthday, and it might not be what he's expecting. Instead of telling him right away, Gloria turns to practically everyone else first. (Claire: "She's going to get really fat.")
Phil, meanwhile, decides to celebrate Jay's 65th by kidnapping him (literally – with a sack over his face and everything) for a leisurely fishing trip with friends, one of which is played slyly by Chazz Palmenteri. It doesn't turn out as badly as you might expect, although clearly Phil has a few things to learn about what truly pleases his father-in-law (hint: It's not soul patches).
Dylan is stumbling about the Dunphy household after prom, and Claire is not sympathetic to his pleas regarding a place to live. She doesn't even flinch when he tells her his only alternative is to live in a garage. The highlight of this sequence is when Claire concocts a "hangover drink" for Haley that seems to include greens and sriratcha, among other things.
For their part, Cam and Mitchell seem to be struggling with their adoption woes. Lily seems intent on adopting a kitten named Larry. While Cam is on board, Mitchell isn't so sure. Something tells me that fresh parenthood isn't completely out of the picture.
Speaking of parenthood, Gloria finally spills the beans to Jay, and his reaction is incredibly sweet. So is the surprising (but fitting) flash forward a few months, when Gloria is showing, Dylan is exiting the Dunphy house and Lily is a proud cat owner.
Notable quotes, courtesy of ABC:
Alex (to Haley who thinks her mom just agreed to letting Dylan move in): "She's being facetious… Sarcastic… Dylan no stay."
Gloria (telling Manny that she's pregnant): "This is not your responsibility."
Manny: "Neither is a wooden salad bowl, but I'm the only who oils it."
Luke: "Oh, gross! I didn't know grandpa could still do it."
Phil: "Don't be disrespectful, Luke, anyone could do it with Gloria."
Mitchell: "It's a French-Canadian delicacy called poutine."
Jay: "Well, it looks like vomit, so I'm not pouti-ing it in my mouth."
Dylan: "My cousin Dylan said I could stay at his house. Well, not really at his house, more like behind it, in the garage. Well actually, there are no walls, so it's more of a porte cochere. Anyway, I'll be sleeping in it. It's got a bathroom. More of a half-bath. It's a coffee can."