'Modern Family' Recap: An Awkward 'Mistery Date'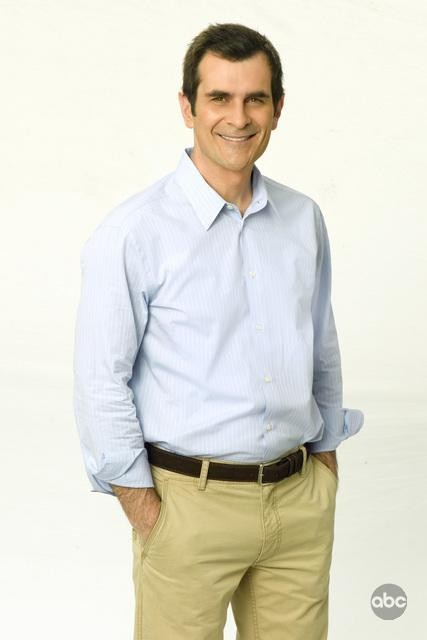 'Mistery Date' provides plenty of awkward moments. Most of them, of course, belong to Phil. More on that later. First, Claire takes Manny, Luke and Alex away for the weekend so that Alex can participate in an academic competition. Claire brings new meaning to being a "pageant mom" – she rubs Alex's abilities in the other mothers' faces and is shocked when Alex is booted from the competition early, especially after Claire had bought a two-day seat cushion.
Manny and Luke, meanwhile, hit up a bunch of local bar mitvahs when Manny thinks he's found the girl of his dreams ("There was a connection. I know this sounds crazy, but I feel like my whole life has led to this moment.") Eventually they find her, but the fun part is trying all the food and getting thrown out by security.
Gloria and Jay, meanwhile, are taken out by Cam and Mitch, who are secretly having a (creepy) mural painted in the couple's bedroom. Surprisingly, after a long day that wears everyone out (Gloria: "I am too tired. The baby kicked me all night. I swear it's either going to be a football player or a chorus girl."
Cameron: "You could be both. My senior year, I was a right-side linebacker and a left-side can-can dancer in Gigi.") everyone ends up liking it. Hunh.
And the best subplot for last: while his family is out of town, Phil takes the opportunity to both work out at the gym and rewire the house. He invites a guy at the gym (Matthew Broderick) over for a "boys' night" with predictably disastrous results. By the end of the evening, completely oblivious, Phil gets his "date" half-drunk on margaritas, takes his shirt off, lights the fireplace by remote and invites him upstairs. Jeez, Phil.
Here are some other memorable quotes, courtesy of ABC:
Mitchell: (acting out a conversation with Jay): "'Dad I can see that you're going through something.'" (as Jay) "'And I can see your bra strap, Oprah. Mind your own business!'"
Dave (thinking Phil is gay but seeing his family photos on the wall): "Wait a minute. Is that your family? Are you married?"
Phil: "Yeah, but don't worry. We have the house to ourselves. They're all out of town. I'm long overdue for a boys' night."
Dave: "So your wife is OK with it?"
Phil: "Oh, yeah. She suggested it. She knows I need this every so often. As long as I clean up afterwards, she's fine."
Claire: "I like it too much when you win. I really love lording it over the other moms."
Alex: "Well, in our house I'm kind of your only source for that."
Claire: "You're telling me. Haley emails me pictures of her nails, and Luke asked me if he's part owl."
Alex: "He does get his head pretty far around."