Model Who Filmed Justin Bieber Sleeping Says They Had Sex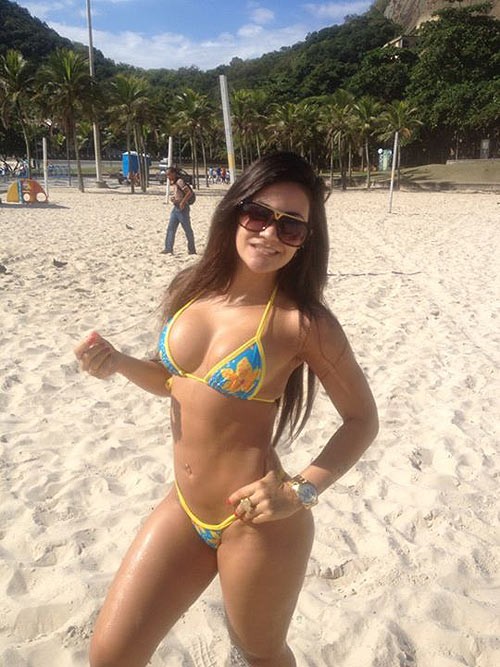 UPDATE 2: According to TMZ.com, the Brazilian woman that Justin Bieber spent the night with two weeks ago is a porn star.

No confirmation has been made whether she is or isn't a hooker, but, as TMZ says, "she has been paid for sex" in the past.

An adult website claims to have an X-rated video of her made years ago and the company plans to release it later this week.
Bieber's reps claim that nothing happened between the two of them.


---
UPDATE: In a new interview with Tati published in Brazil's The Sun newspaper on Monday, the model says that she and Justin DID have sex, and this time she was giving out plenty of details.

"It was marvellous and unforgettable... He has quite a fit body and looked great naked," she said, according to Britain's Mail Online. "Take it from me, he's well endowed and very good in bed."

Tati even said that Bieber called her the next day asking her to com back, but she declined because she was "too exhausted" from the night before.
---
The Brazilian woman who filmed Justin Bieber sleeping last weekend has shared some of the secret details about what happened during the night they reportedly spent together.

26-year-old model/bodybuilder Tatiana Neves Barbosa, aka Tati, has opened up about her encounter with Bieber, 19, in an interview with local Brazilian TV show "Fantastico," hinting that the two may have gone all the way.

When asked if the two had kissed, she answered coyly, "What do you think, if I was sleeping in the bedroom, just me and him?"

But that's as much as she would reveal, refusing to comment on whether or not they had sex.

Tati says that she ended up at the party after a DJ friend who was playing at the club where Justin was hanging out after his concert in Sao Paulo called her and invited her to the singer's afterparty.

"He rang me and invited me, asked if I wanted to go to his house for a party," she says.

But then things get into a bit of a gray area, as Tati claims that she didn't see any of the reported 30 other women Justin brought back to the seaside home he had rented while staying in the city. Like the ones who claim he stood on a wall and shouted "I'm the king of the world" before jumping in the pool with two girls.

Strangely, when asked, by "Fantastico," Tati said that she didn't see any other girls at the party.

"No. I'd already gone into the bedroom with him," she answered.

According to Britain's MailOnline, the owner of the Zax club claims Tati wasn't one of the women at the club that night that Justin had bused back to his rented villa.

"I know all the girls who went," said club owner Marcus Mion. "I personally went round asking inviting them on behalf of Justin, and I put each one in the van that took them there."

Interestingly, sources at the Centaurus brothel, where the singer was partying the night before, told the Mail that they know who Tati is and have seen her around in the past.
Also of note is the fact that all the women invited back to the party were reportedly told to hand over their cell phones until they left. But Tati somehow got hers in to the party.
Tati says that she took the video of the singer sleeping because she woke up first. So far it's had over 34 million views on YouTube.