Model Industry Innovation: Taking A Turn For The Better?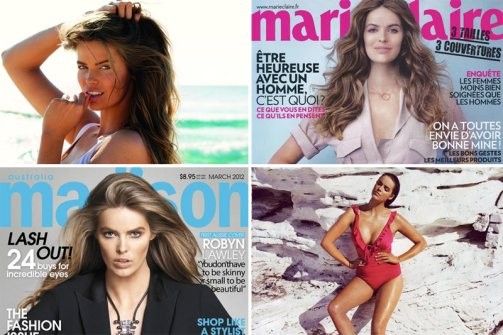 The wave of new media has swept the world by storm- sites like Facebook and Twitter boast millions of users and play a large role in influencing everyday life. It's influenced the way we communicate with one another, networking, marketing, business, and now; even the modeling industry.
Since the beginning of time- the term "model" has always been associated with mental images of stick-thin females towering at a whopping 5'10 or taller. To some extent that stereotype is still associated with modeling, but in recent years it seems that the modeling industry may be taking on a new leaf. Now through different social networking sites such as Facebook; different contests and campaigns are targeting more "normal sized" women that don't necessarily fit into the standard height and weight modeling requirements. And now women are given the chance to earn or win a modeling contract or opportunity based on votes or getting the most "likes" on their photos.
Maurices.com is a prime example. The site features a contest that give women across the country the opportunity to enter themselves into the "maurices mainstreet model search" for a chance to model for the maurices clothing line, and to donate a few thousand dollars to a local charity of their likings. All it requires is making a quick video, filling out a short bio, explaining why you are maurices next mainstreet model, uploading a few pictures, and then it's all up to you to the candidates to network and promote themselves to get as many votes as possible! American Eagle also recently featured a contest on it's site also "vote based" that gives males and females across the country the chance to possibly star in an American Eagle campaign as well as being featured on a Bill Board in NYC. Playboy promotes a contest on Facebook called "Playboy's Miss Social." Women across the country have the opportunity to compete by getting the most votes on Facebook for their own shot at being titled "Playboy's Miss Social" as well as winning a trip to LA, a test photo shoot with Playboy photographers, and the chance to be seen by Hugh Hefner and potentially become a play mate.
Aspiring models and models alike also use different forums such as Facebook and sites like modelmayhem.com as a way to build a portfolio and share images from their photo shoots. Freelance models use Facebook as a form of personal branding by creating fan pages, establishing a base of followers, and sharing links to contests with their Facebook friends as an effort to garner votes. Sites like modelmayhem.com are a place for models, hair stylists, makeup artists, and photographers to collaborate, network, arrange photo shoot sessions and in some cases; shoot TFP (time for print) which is an exchange between the photographer and model. So nowadays, anyone can model because it's not too difficult to schedule a photo shoot session with a photographer and get a portfolio started!
And it seems as of recently more famous faces have been recognzied in the modeling and fashion industry for natural, curvier body types. Kate Upton and Ralph Lauren's first plus size model Robyn Lawley are prime examples. Upton is known for her bodacious bod and she's made it into big-name publications such as Vogue, Esquire, GQ, and Maxim- just as is! In addition to being a Ralph Lauren model, Robyn Lawley who is considered "plus-sized" under industry standards, has been front and center on the covers of iconic magazines like French Elle and Vogue Italia!
The media also closely scrutinizes campaign adds- especially ones that feature models that are too re-touched. These advertisements are highly criticized for promoting an unrealistic image. Then there are campaigns like Dove's; featuring normal looking women in the nude to promote beautiful skin for "everyone". Perhaps the influence of these types of campaigns, curvier models like Kate Upton, Facebook, and other social media sites are slowly pushing the modeling industry in a whole new direction- one less critical of strict requirements and demands on height and weight; and more open to embracing women as they are naturally, promoting healthy looking body types. Will it ever completely rid the agency standard requirement of a height of at least 5'8 + and stick-thin? Maybe it will, maybe it won't; but one thing is certain, there is definitely a surge of change currently underfoot in the modeling world, and in years to come industry standards may completely change.