'Mob City' Star Jeremy Luke Takes On Mickey Cohen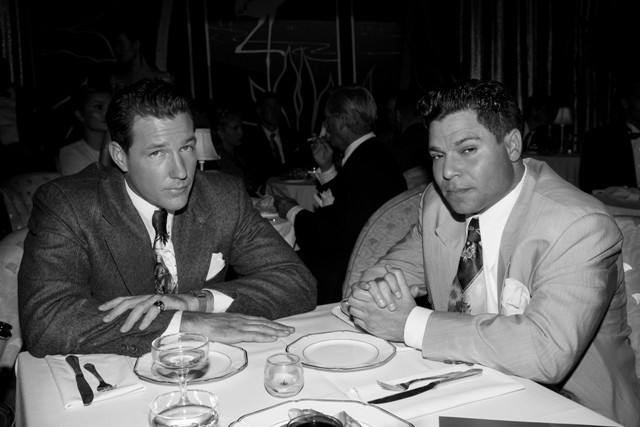 TNT is going noir with Mob City, its three-week miniseries event from The Walking Dead's Frank Darabont and starring Jon Bernthal, Milo Ventimiglia, and Ed Burns. Amongst the known names, though, is an unknown quantity: Jeremy Luke, who plays notorious Los Angeles gangster Mickey Cohen. BFTV caught up with Jeremy last week to ask him about stepping into a real person's skin and joining such an ambitious project.
What got him to sign on to Mob City? "Frank Darabont," enthused the Staten Island native, pictured above right with co-star Ed Burns. "Getting a series, that was a plus, but the truth was, it was like 'I'm down with the creator of The Walking Dead and the director of The Shawshank Redemption."
Getting the part proved to be a little nervewracking. "I waited for ten days for them to tell me," Jeremy said. "I auditioned for it on a Tuesday. My agent called me up at ten o'clock at night and said, 'Frank saw your audition tape, he's really excited. You've got to go back tomorrow and it's five pages of dialogue.' I did the audition, it felt great. [Then] I got it and then I just lost my mind."
It's not hard to see why he went a little bit crazy. Aside from this being Jeremy's first major series role, it put him front and center in an impressive cast, playing a real-life person who's been brought to life many times before, most recently by Sean Penn in the feature film Gangster Squad. So how did he approach the role?
"I just put my own spin on it. I watched Bugsy and I also watched Gangster Squad afterwards," he explained. "My approach was, he's a gangster, but he's so kind of like quirky, and he really just enjoyed being around people. He liked celebrities, and he liked being the host of his club, and being the center of attention."
He also drew inspiration from a surprising place. "The first day that I shot, James Gandolfini passed away. And I was a real fan of Gandolifini. I've always been a huge fan of his," he told us. "While I was doing this show, I actually went back and I watched all the episodes of The Sopranos. I think there's some of Gandolfini in what I was doing. He definitely inspired me. He was really good at using himself and bringing himself and being comfortable with being the big guy. I used a lot of that."
"I think the highlight for me is the banana warehouse scene," he teased, unable to tell us any more than that. "It's in the second episode."
Now Jeremy is hopefully set to get some attention of his own with this breakout part. But ask him about it, and he'd rather talk about everyone else around him. "Everything came out just better. I didn't know really what to expect," he reflected. "At the end of the day, I made some great relationships and friendships."
"These guys, I'm blessed to work with. They're all great. There's no egos. There was no bullshit on set. Cast and crew all got along. Frank just was, he leads us by example," he continued. "I'm the only person who's not a name in the show [and] everybody took me in. The first time I met Frank, Jon Bernthal came, we had breakfast at 8 AM on a Sunday."
While he worked with outstanding people on Mob City, Jeremy also makes an effort to be another of Hollywood's good guys. "What I do on the side is, I help actors that are looking for agents. And that's something that I've been doing for years," he told us. "I made it a business of mine. That's been like a real passion of mine, that I'm still doing and I'm still going to do."
And though he might be playing a mobster at present, off-camera he's a very sweet, pretty funny person, something that comes through if you check out some of his other work. "I'm really proud of, I have a web show (turboandjoey.com). that kind of sparked it all off for me and my buddy Joey Russo," he said. "It's about two guys struggling in Hollywood as actors, trying to make it and trying to get somewhere." But now, we think that Jeremy can relax a bit, because he's definitely gotten somewhere pretty impressive.
The three-week Mob City event begins tonight at 9 PM ET/PT on TNT. You can also keep up with Jeremy by following him on Twitter (@JeremyLukeTurbo).
(c)2013 Brittany Frederick. Appears at Starpulse with permission. All rights reserved. No reproduction permitted. Visit my official website and follow me on Twitter at @tvbrittanyf.